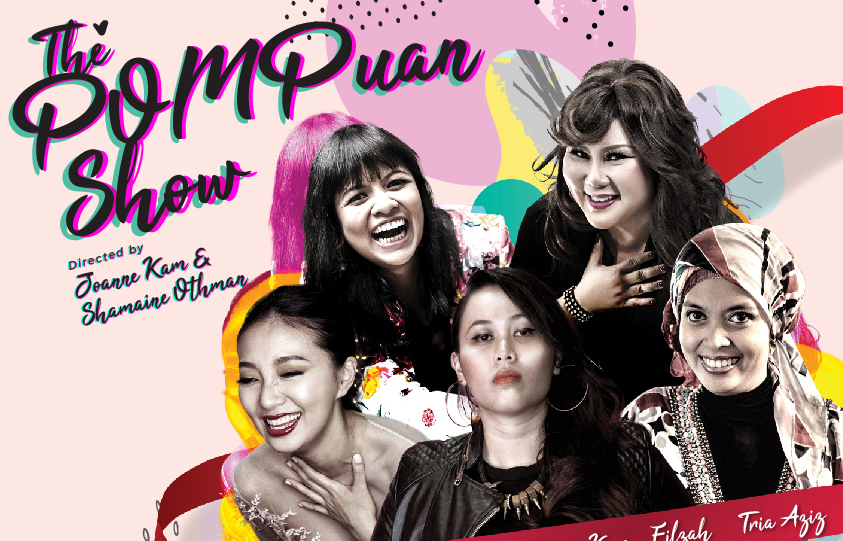 Pompuan: Perempuan (Female in Malay)
By V. Sivaji
A night of fun and non-stop laughter awaits those who dare to attend the "PomPuan" stand-up comedy show.
After a successful run for International Women's Day, the sassy, independent women of The POMPuan Show are back!
In conjunction with the month of Merdeka, LOL Events is proud to present a restaging of The POMPuan Show [POMP definition — a show of magnificence = PEREMPUAN], a no-holds-barred, comedy variety show celebrating independent women!
Five hilariously sassy women in Malaysia's entertainment industry band together in a bilingual show (English and Malay) filled with crazy laughter and anecdotes on all things women related.
This time around, the ladies will be painting the town red in Penang (9 & 10 August 2019) at penangPAC and Kuala Lumpur (31 August 2019).
Directed by Malaysia's top women in comedy, Joanne Kam and Shamaine Othman, the show is set to entertain and empower audiences with a fun night of stand-up comedy, sketch comedy and song parodies.
They will perform alongside BOH Cameronian Arts Award winner – Tria Aziz, songbird – Chelsia Ng and ASTRO Warna's Miss Lawak 2019 – Filzah Azmi.
"Women play a prominent role in society, now more than ever before," says Rizal Kamal, CEO of LOL Events.
He added that they still recognise them as complicated creatures but with a better understanding of the power they hold.
"There isn't a better way than comedy to celebrate the driving force of independence – both for Malaysia and Women!" added Rizal.
Shamaine Othman loves comedy. Since the age of 7, she has acted in popular Malaysian TV sitcoms such as 2+1, Pi Mai Pi Mai Tang Tu, and Nick & Nina. In 2011, she dove into the world of stand-up comedy performing at Time Out KL's Comedy Thursdays and since then performs regularly in the Kuala Lumpur and Singapore comedy circuit. Some notable shows and festivals are Super Kam (1, 2,3 and Ultra), LOL Fest (KL), KL International Comedy Festival and Singapore Comedy Fringe Festival. In 2015, Shamaine had the honour of opening for Gina Yashere and Ronny Chieng. Shamaine is also a member of sketch comedy ensemble, Projek Disko Baldi and improv comedy troupe, AIIA Improv.
Penang-born Chelsia Ng is best known for her role in the Malaysian English-language comedy "Kopitiam". However, her talents grow beyond her achievements as an actress, singer and composer. From the moment she cut her teeth winning Asia Bagus! at the age of 14 in 1996, Chelsia has gone from strength to strength staring in numerous feature films and TV shows. One of which is 2005's 'Salon', which got her a best supporting actor nomination at the 19th Malaysian Film Festival. Chelsia has also released a debut album titled 'Here With You'. Her first single Not a Lie was nominated for a Vima award where she's also nominated for best pop act and best overall female.
Filzah Azmi is a rising star with a force to be reckoned with. Stepping into the limelight in 2013 with a reality show by TV3 called 'Bintang Mencari Bintang'. Since then, she has been performing relentlessly in a multitude of shows whilst bagging herself First Runner Up in the 'Skool of Lawak' by Astro, 3rd place for 'Projek Komedi Warna 2015' by Astro and lately securing the title of 'Miss Lawak 2019' by Astro. Filzah performs frequently at Joke Factory, Crackhouse Comedy Club, Afdlin's Comedy Planet and at shows by LOL Events. She has opened for Harith Iskander, Dato Afdlin, Douglas Lim and Joanne Kam.
Tria Aziz is an award-winning singer, actress and musical theatre performer. Before being recognised at the Boh Cameronian Arts Award 2018 for Best Vocals in Music and Best Musical Performer in A Supporting Role, she also won Short + Sweet's Best Female Actor in 2013 and Best Actor in 2017. Tria began her career with KRU Berhad using the stage name Farra in 2002. She has since appeared in a multitude of television and musical theatre projects. Some of her memorable work were You're A Good Man Charlie Brown, Aladdin A Musical Comedy, Shout! The Mod Musical and The Wizard Of Oz. Besides musical theatre. Tria sings at clubs and corporate shows. Her repertoire ranges from popular music to musical broadway songs.
Tickets are available for purchase online through Proticket Malaysia (https://proticket.com.my/lol-events/) at RM70* (Standard) & RM90* (Premium) for both shows on Aug 9 & 10 at PenangPac, Penang and Aug 31 at The Platform, Menara Ken TTDI, Kuala Lumpur.
An Early Bird Promo of 15% discount is currently offered for limited seats. Enrich members who purchase tickets for the show will be eligible to earn Enrich Miles when making their purchase.