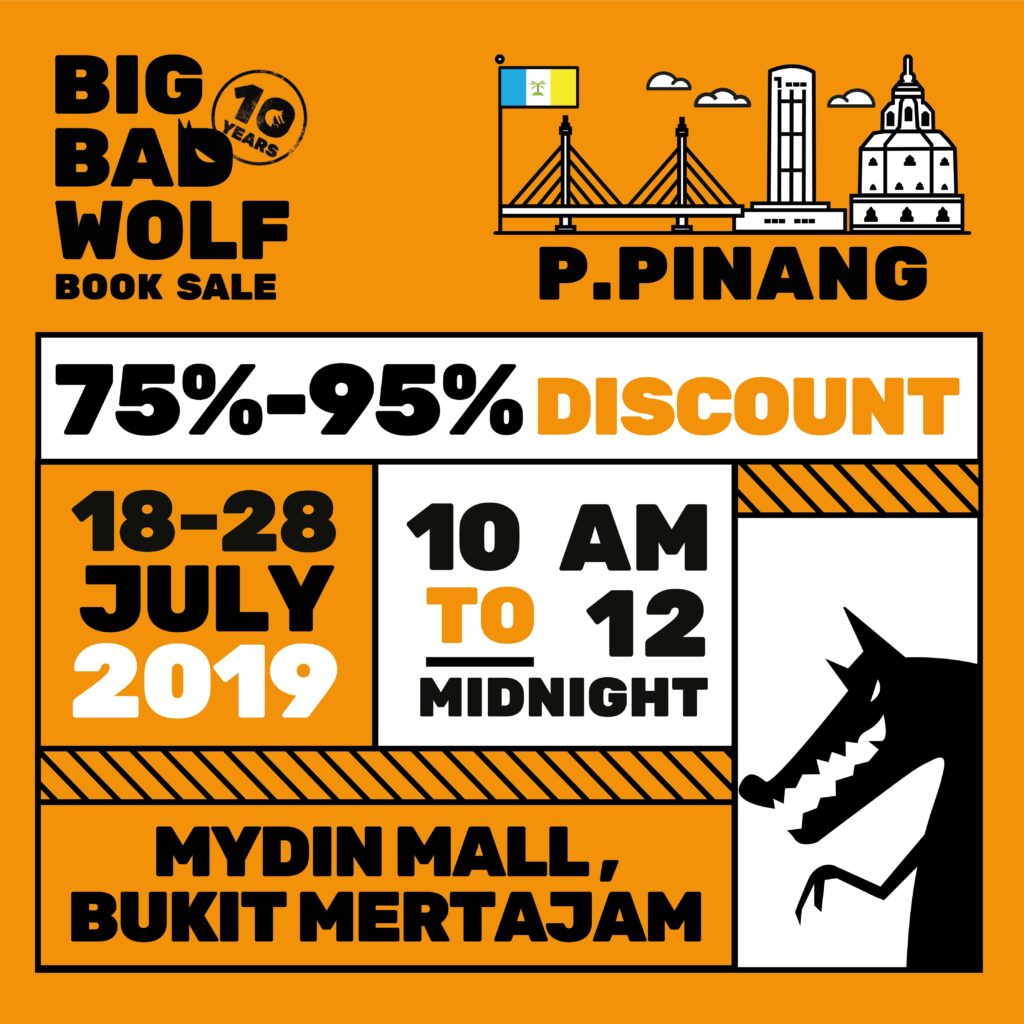 Calling all children and adults, the Big Bad Wolf Book Sale is back again at the Bukit Mertajam's Mydin Mall from July 18 to July 28, 2019 from from 10am till 12 midnight daily.
Widely known to many for its attractive discounts of 75% – 95% off recommended retail prices, the Book Sale will feature a diverse collection of books from different genres. Available in English and Bahasa Malaysia, books that will be on sale include bestsellers, young adult titles, children's books, romance, sci-fi, crime, thriller, business books, art and design, cookbooks and many more.
"From what we have seen through our previous Sales here and with the opening of our sister company, BookXcess in Gurney Paragon earlier this year, Penangites are a bunch of book lovers that never cease to amaze us with their generous support. We have always known that Penang was a stop we couldn't miss. Hence, thanks to all the support and feedback we've received, we are back again, and this time, we are bringing the Book Sale to Mainland Penang," said Andrew Yap, Founder of the Big Bad Wolf Book Sale.
While visitors can enjoy a vast selection of books from different genres, parents heading to the Sale will be delighted to find books suitable for their little ones as well. A strong believer that reading should be a habit instilled since young, the Big Bad Wolf Book Sale will have an assortment of children's books ranging from activity books, colouring books, storybooks, picture books and many more.
Aside from those books, parents can also look forward to the Magical Books that will be on sale during the whole duration. Featuring cutting-edge Augmented Reality (AR) technology that revolutionises reading for young ones, the Book Sale will feature 13 interesting titles with content ranging from educational tales to famous bedtime stories. With characters that "comes-to-life", these interactive and engaging books can assist in a child's learning as they are able to read, play and learn at the same time.
Moreover, more than 40 local publishers such as Kualiti Books, Sasbadi, PTS and Pelangi will be participating in this year's Big Bad Wolf Book Sale in Penang, bringing educational titles at discounted prices. Malaysian novels titles by Buku Fixi, Lejen Press, DuBook Press and Iman Publication can also be found at the Sale.
A big advocator of believing that everyone has the right to learn, the Big Bad Wolf Book Sale is activating its Corporate Social Responsibility (CSR) arm – the Red Readerhood (RRH) by partnering with four beneficiaries, which include Teach for Malaysia, Children's Protection Society Penang, The Salvation Army Penang Children's Home and HOPE worldwide Penang. Benefiting children aged 5 – 17 years old, the Big Bad Wolf Book Sale will be donating a total of 200 books to these organizations as a head start for the Red Readerhood programme. Visitors are also welcome to lend a hand by making a pit stop at the Red Readerhood corner near the cashiers to purchase and donate books of their liking.
Started since 2009, the Big Bad Wolf Book Sale is not planning on slowing down anytime soon and will be continuing its voyage to make books affordable to all around the world. This year, the Big Bad Wolf Book Sale has successfully travelled to states such as Pahang, Johor, Sabah, Sarawak, Negeri Sembilan and will be making appearances in other states in Malaysia like Terengganu and more before finally returning to Kuala Lumpur to celebrate its 10th Year Anniversary Sale in December.
Selling more than just books, customers can also purchase Big Bad Wolf badges and magnets at the Sale.