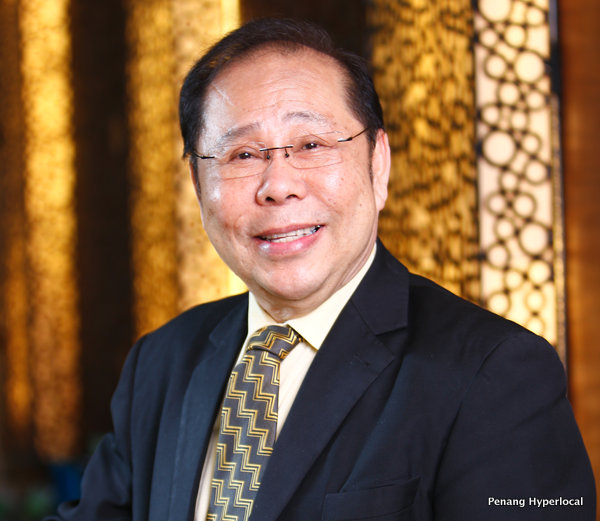 The mere mention of Derrick Tan in the hospitality industry in Penang evokes the smiles and admiration, for he is, simply put, a jolly good fellow. And that appears to have rubbed off on millions of lives as he served from one Pearl of the Orient (Penang of course) to the other, the Phillippines.
He has been regarded as the master trainer and motivator in chief for the current crop of managers, heads of departments serving the hotel industry in Penang, earning him the well deserved "legend" salute among friends and the workforce.
Tan has come a long way to his present role at a five-star property in Manila. His last posting in Penang was the general manager of the Bayview Georgetown Hotel from Aug 1, 1996, to 2010.
Bayview Georgetown, under his watch, was transformed. Bustling with activity with various food promotions at the coffeehouse, memorable live bands at the lobby lounge and party nights at the Carmen Club are his well-known trademarks.
Not to mention, the mouthwatering buffet spread at the Rooftop Revolving Restaurant, which is now a skybar.
It can be said that the Bayview Hotel was the talk of town due to its constant activities, promotions and corporate social responsibility (CSR) projects much to the envy of other city hotels.
"When it comes to any hotel, achieving the sales budget is something craved in stone while not achieving can result in getting a earful or worse, even being shown the door by their superiors or owners," shared Tan.
Guests become friends
Such is the pressure on a general manager like Tan to keep his team happy and also the top management or owners contended, said Tan.
He is also credited to introducing the tagline "Where guests become friends" and drilled this mantra into the team.
"My philosophy at work is very simple, to make sure that the guest is happy and the happy guest will make for a continuous success of your hotel.
"This is where the tagline applies," he said.
Among his memorable time in Penang was to have a lot of people and many treat him like family. He was also privileged to meet the then King and also the Prime Minister at that time, Tun Dr Mahathir Mohamad.
When asked why many of his ex-colleagues have a lot of good things to say despite being tough at about his management, Tan had this to say – "I am glad to know that.
"I am a firm believer that we should give equal opportunity to everybody regardless of age, gender, race, if they have the diligence and passion and thirst to become successful one day, I will not hesitate to share my knowledge," he quipped.
Sumama ka sa akin (Come with me!)
Touching on his present role at his 35-storey St Giles Hotel Makati, Tan believes that the Philippines in itself is a very nice country and full of potential.
He said the hotel industry in Manila depends on the quality of people working there, to make or break a property.
Tan knows this, as he has a team of more than 120 people varying from the occupancy rate serving 512 rooms.
"Over the years, I have also managed to learn Tagalog which helps a lot in terms of communication, not only with the rank and file staff but also with our local guests.
"For me, speaking the native language is more of conveying my thoughts genuinely to them," he adds.
He still visits Penang frequently to catch up with friends and ex-colleagues and also misses the world renowned local Penang food.
But for now, he likes Manila for its culture which is very rich and the people are very hospitable and resilient. They are also family-oriented people.