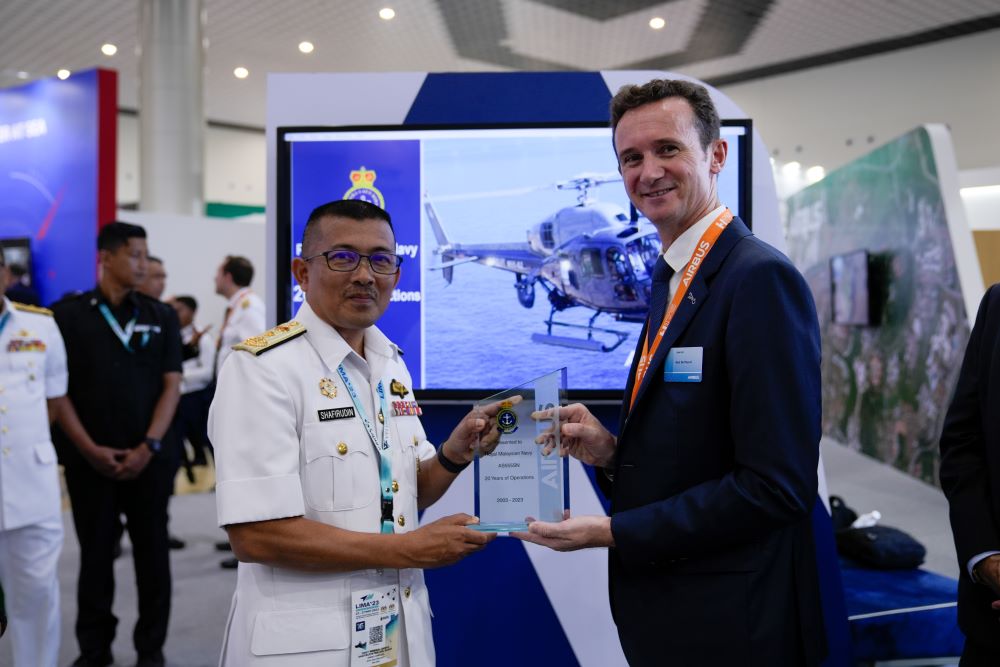 Alex presenting a souvenir to Admiral
Airbus Helicopters and the Royal Malaysian Navy held a ceremony at the Langkawi International Maritime and Aerospace Exhibition (LIMA) to celebrate the 20 years of operations of the navy's AS555SN Fennec fleet.
The Royal Malaysian Navy's fleet of six AS555SN Fennec helicopters have been in service since 2004.
The light twin, multi-role AS555SN fleet is used for training missions and navy utility operations. Together, they have achieved over 22,000 flight hours.
Vincent Dubrule, Head of Asia-Pacific, Airbus Helicopters presented the award to The Chief of Royal Malaysian Navy Admiral (ADM) Datuk Abdul Rahman Ayob to mark the milestone achievement.
Malaysia is a key market for Airbus and the third largest in Asia after China and India. It is also the manufacturer's largest supplier base in South East Asia, with 14 local companies, producing structures, components, and parts for the complete range of civil aircraft, as well as for the A400M military airlifter.
In addition, Airbus operates several facilities in the country, including an engineering centre and maintenance, repair and overhaul (MRO) facility at Sepang, as well as the regional hub and simulation training centre for its helicopter business at Subang.