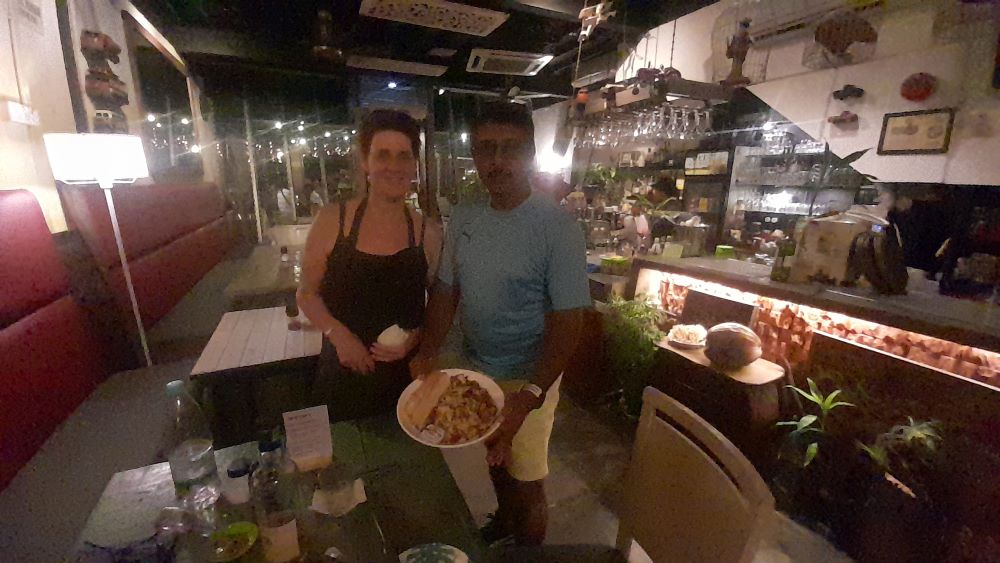 Tanja with a guest from Penang at Red Tomato last night
The popular Red Tomato restaurant along Jalan Pantai Cenang in Langkawi celebrates its 22nd anniversary this year.
They are known as the place where "friends and travellers" meet.
They have withstood the test of time and seen the ups and downs of the food and beverage industry all these years.
Restaurant owner Oli and his wife, Tanja, have been managing the restaurant with their team of workers.
Tanja is in charge of the kitchen and dishes out tasty food and sometimes something out of the menu upon request.
"However, getting workers, crew and having the proper attitude for the industry has always been a challenge. But we have been managing with opening for breakfast and lunch or for dinner alternatively," said Tanja.
Among their popular dishes are their egg benedict, farmer's choice, garden special, pizzas, seafood, pasta,bread & toast, pancakes, homemade hashbrowns and the lot.
The outlet became popular by word of mouth through friends, travelers, tour guides, foodies and even hotel concierges.
"We only use paper bags and containers for most of our daily needs. This is our way to reduce the use of plastics and conserve Mother Earth.
One will also notice a number of friendly cats moving in and out of the cafe.
"We do not own all of them but I think they like to hang out in our vicinity," quipped Tanja.
The restaurant has also won numerous accolades for their food and the cozy setting.
Taking care of the floor and service is the friendly Damian who will also recommend the best of choices to go. They also offer a list of wine and other liquor choices.
Pet lovers will be pleased that they are also pet friendly and as often see guests bringing in their pets for a hearty round of good food.
Check out Red Tomato when you are in Langkawi next. They are at No. 5 Casa Fina, Jalan Pantai Cenang, 07000 Langkawi, Kedah.