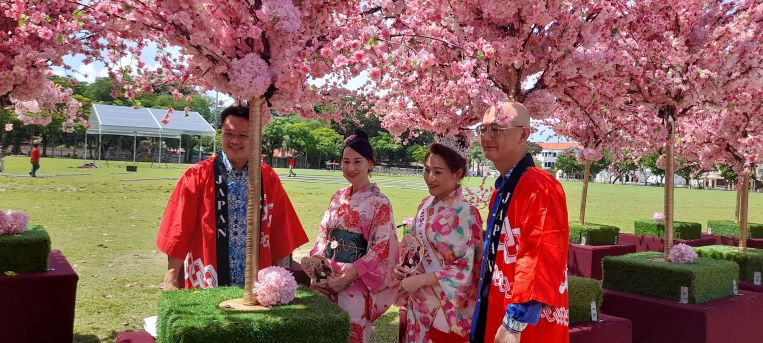 By V. Sivaji
The Consul-General of Japan in Penang, Mr Orikasa Hiroyuki hails from Fukushima, Japan but what is unique about him is that he speaks fluent Bahasa Malaysia.
Having studied at the University Kebangsaan Malaysia (UKM) in the early days, he has mastered the language well.
He also holds a Bachelor (Economics), Master (Development Studies) qualifications.  
Although Hiroyuki is a busy person handling his day-to-day duties, Penang Hyperlocal had the opportunity to sit down with him to get to know him better in an one-on-one interview session.
Q)How did you pick up speaking Bahasa Malaysia ?
A) I studied Bahasa Malaysia at University Kebangsaan Malaysia (UKM) from 1984 to 1986 at Bangi, since I chose Bahasa Malaysia when I joined the Ministry of Foreign Ministry, Japan. It was the era of the "Look East Policy".
Q) How long have you been the Consul-General of Japan in Penang?
A) I have been in Penang for just over a year since June 19, 2021. However, this my fourth assignment to Malaysia following my term from 1984-1986,1995-1998 and 2016-2019 to the Embassy of Japan in Malaysia.
Q) How do you find living in Penang ?
A) Penang packs in a diversified culture, nature and traditions. I also love the beautiful scenery of Penang Island and charming heritage streets of the city of George Town inscribed by UNESCO. When I came to Penang in 1984 for the first time, I was very impressed by the beauty and height of KOMTAR. Whenever I see KOMTAR, I am always reminded of that time.
Q) What is your favourite local food ? A) Durians and Nasi Lemak with less chili.
Q) What are your main duties as a Consul-General?
A) My main duties are the providing efficient administrative services to Japanese residents, Japanese companies and the people of Malaysia, and to enhance the bilateral relationship of Japan and Malaysia in various ways, such as cultural activities as "an organizer and as a supporter" in the six states of Penang, Perak, Kedah, Perlis, Kelantan, and Terengganu.
Q) How has the Bon Odori Festival managed to bring Japanese and Malaysians together ?
A) The Penang Bon Odori Festival has more than 20 years of history. The festival is a testimony of the cordial bilateral relationships based on our mutual understanding, respect and trust, enjoyed between the people of Penang and Japanese residents in Penang.
Every year, we establish the organizing committee which consist of the Penang State Exco for Tourism and Creative Economy, the Penang State Government, Japan-related organizations, namely Penang Japanese Association (PJA, established in 1978), Malaysian-Japanese Society (MJS, established in 1967), Japan Graduates' Association of Malaysia (JAGAM, established in 1973), Northern Branch, Penang Japanese Language Society (PJLS,1981),Association for Overseas Technical Scholarship (AOTS, established in 1970) and the Consulate-General of Japan in Penang(COJ), under the leadership of YB Yeoh Soon Hin, Penang State EXCO for Tourism and Creative Economy and his team, in the beginning of the year.
Almost half of the year, we are working together, sweating together, and laughing together to achieve the common goal which is the success of the Penang Bon Odori Festival in July.
Through this process and accomplishment in the more than 20 years , we continuously reaffirm our cordial friendship between the state government and the people of Penang, and Japanese residence in Penang.
The existence of "the Penang Bon Odori Festival" encouraged and led to maintain a good bilateral relationship in both countries. This means a lot for Japanese people in Penang.
Q) Before coming to Penang, where did you serve ?
A) I have been posted and served in 11 countries including Japan. The area of specialty is post-conflict issues and development issues, and area of specialty is the South-East Asia and the Pacific Island countries. Among the countries are Singapore, Indonesia, Brunei, Iraq, Fiji, Afghanistan, Papua New Guinea, Sudan and Canada,
Q) Do you have any hobbies ? A) My hobbies are tennis and golf. I play tennis once a week.
In concluding the interview, Hiroyuki added that in order to enhance our bilateral relationship, the COJ always makes utmost efforts to joint projects/programs with the state government and the people of Malaysia, especially the six states. There are more than 30 Japanese related organizations such as Penang Judo Association (PJA, established in 1958),Alumni Look East Policy Society (ALEPS) in Penang. The COJ is always working together with these organizations for implementing various projects/programs in Penang. Mr Orikasa Hiroyuki is married to his wife, Pauline and has two daughters.