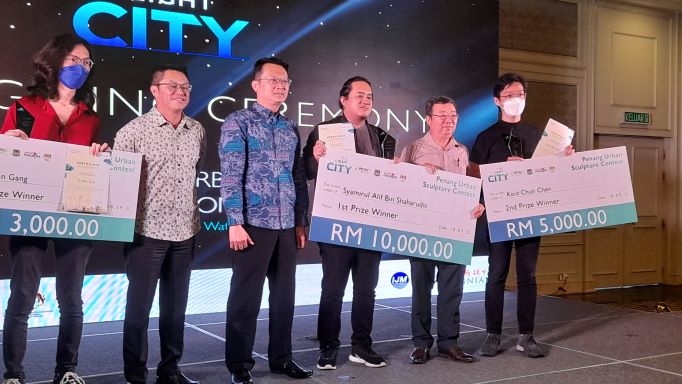 In yet another initiative by IJM Perennial Development Sdn Bhd to unleash the talents of the future generation, they organised the Penang Urban Sculpture Contest open to all colleges and universities.
The competition was aptly themed "Where Light Meets Water".
After much consideration, 13 entries were shortlisted and invited to a prize presentation ceremony at the E&O Hotel yesterday.
On hand to present the winning prizes was State Exco for Tourism and Creative Economy YB Yeoh Soon Hin.
Also present was Dato Toh Chin Leong, Director of IJM Perennial Development, Tan Hun Beng, GM of IJM Perennial, Penang director for the Ministry of Tourism, Arts and Culture (MOTAC) among others.
The top prize went to USM landscape and architecture student, Syamirul Alif Shaharudin who won RM10,000 for his efforts.
His creative effort will have the privilege of being placed at The Light City which is fast taking shape along the Tun Lim Chong Eu Expressway.
The first runner-up was Koid Chun Chen who won RM5,000 while Er Qian Gan was the second runner-up and walked away with RM3,000.
"The contest has created public awareness on the importance of water and is a golden opportunity for young talents to grow and develop their artistic journey.
"It is also a combination of art and nature to allow people to appreciate and explore nature and also connect people.
"This we are creating a positive impact to the community and the environment," said Yeoh in his address.
In this context, he also added that he will propose that all developers include the art component in all of their future projects.
Meanwhile, the 10 other contestants also received consolation prizes.