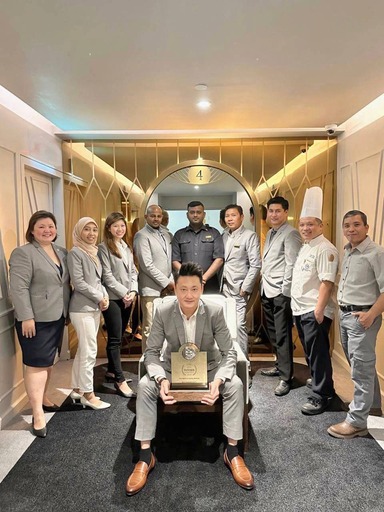 By V. Sivaji
It was time to rejoice for staff and management at the Prestige Hotel when they were honoured with their renewal of their 5-star hotel status recently.
General manager Melvin Ooi was on hand to receive the certificate of accreditation from the deputy director of the Ministry of Tourism and Culture (Motac Penang Chapter) Puan Hadilah.
Ooi was also accompanied by the heads of departments of the hotel at the brief ceremony.
"We regard this recognition as a testimony of the hard work and dedication of the team members at Prestige Hotel Penang," said Ooi.
Recently, they were also rewarded by the Haute Grandeur' Award for "The Best Modern Hotel on a Global level", "Best Business Hotel in Malaysia", "Best City Hotel in Malaysia" and " Best Leisure Hotel in Malaysia" awards.
Set in the heart of the UNESCO Heritage location, the Prestige Hotel Penang makes great strides in being a brand to be reckoned with despite being a stand alone brand.
They pride themselves as being a modern-day interpretation of the Victorian-era elegance and style. There is also an oasis of lush tropical ambience throughout the lobby, corridors and pool area to enjoy.
Penang Hyperlocal wishes syabas to Prestige Hotel Penang for the recognition.