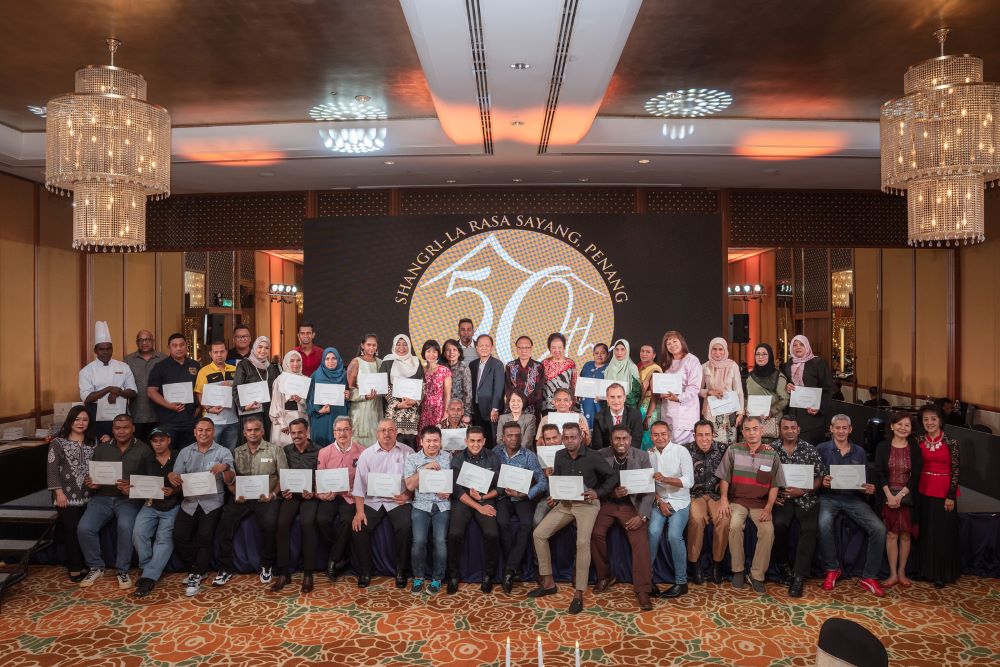 One for the the history books
A gala ceremony was held recently to commemorate Shangri-La Rasa Sayang's 50th anniversary.
The resort is Penang's and also Malaysia's first-ever, five-star resort to turn 50 this year. 
As the first resort under the Shangri-La Group, the resort celebrates the golden anniversary with the launching of a Photo Gallery documenting its evolution over the decades, titled "50 Years: A Love for Life and All Its Pleasures" followed by an appreciation dinner.
Present for the heartwarming and nostalgia-tinged festivities were Madam Kay Kuok – Director of Kuok Singapore Limited and niece of their founder Robert Kuok, Datin Rozina Amin, Executive Director of Shangri-La Hotels (Malaysia) Berhad; Caroline Cheah and Senior Vice President, Operations of Shangri-La S.E.A.A, Marcus Christ, Penang area general manager, communications director Suleiman Tunku Abdul Rahman and other executive members.
The gathering was held at the FIP Lounge, Garden Wing, the Photo Gallery features a specially-curated collection of artifacts, photographs and memorabilia that will take visitors on a remarkable journey through time – from humble beginnings all the way to becoming a symbol of Malaysian hospitality.
Over 30 informative display panel charts the many chapters of Rasa Sayang's history, giving locals and tourists alike unique insights into its rich heritage. Of particular nostalgia is its early development and grand opening on 9 November 1973 by the country's second prime minister Tun Abdul Razak and Shangri-La Group's chairman of the board of directors Tan Koon Kee.
Guests also got to see how various expansions and refurbishments over five decades transformed it into the multi-award-winning resort that so many love today. The exhibition also highlights the innovations and advancements that made Rasa Sayang a powerhouse of Penang's hospitality scene, as well as the enduring philosophy of exceptional service, unrivalled quality and constant improvement, a hallmark of the Shangri-La brand.
"The exhibition takes one through all the milestones of Rasa Sayang, Malaysia's first 5-star resort when it opened in 1973. Built on the motto of "A Love for Life and All Its Pleasures", it ushered in a new era of heartfelt hospitality and set new benchmarks of excellence.
"This trip down memory lane is also an expression of gratitude towards our guests, many of whom have returned and stayed with us numerous times throughout those years. It's a tribute to their unwavering loyalty and support," said Christ.
After kicking off the milestone celebration with the opening of a photo gallery chronicling the history of Rasa Sayang, the management of Rasa Sayang had a long-service award presentation and appreciation dinner with current and past employees.
Madam Kay Kuok also mingled with guests and exchanged fond memories. She later presented awards to colleagues like Tan Khai Seng in honour of his 50 years of service.
Currently a Paymaster, he is the only person to have worked at Rasa Sayang since its opening in 1973 until now.