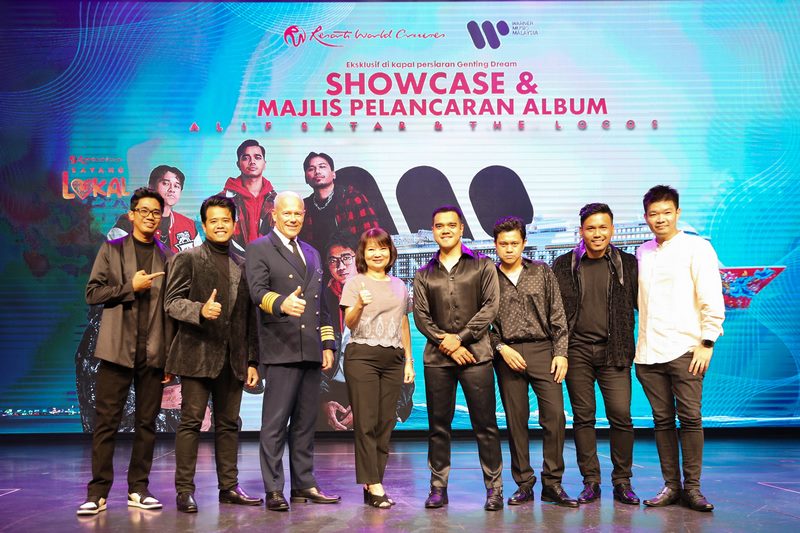 Resorts World Cruises has kick-started its "Sayang Lokal" (Love Local) campaign in Malaysia, featuring Alif Satar & The Locos recently.
The launch marks the first in many "Sayang Lokal" campaigns supporting locals such as Malaysian talents and businesses by providing an additional platform on a cruise ship to create awareness of local offerings.
Alif Satar & The Locos is the first local band to launch their album and perform aboard the Genting Dream, which homeports in Port Klang.
As part of the collaboration between Resorts World Cruises and Warner Music Malaysia, the Genting Dream hosted the album launch and a show for Alif Satar & The Locos at the Zodiac Theatre. The band performed their latest songs from their self-titled album for guests, which included fans, media, influencers and celebrities.
The event was attended by representatives from Resorts World Cruises, including Cynthia Lee, vice president of sales (Malaysia), Captain Jukka Silvennoinen of the Genting Dream and Carter Ng, associate director of digital account and business development, Warner Music Malaysia.
"On behalf of Resorts World Cruises, we are delighted to embark on this "Sayang Lokal" journey for Malaysia and to start off the campaign with one of Malaysia's leading acts, Alif Satar & The Locos. We would also like to extend our sincere thanks to Warner Music Malaysia for their collaboration in the 'Sayang Lokal' initiative. It is our hope through our "Sayang Lokal" campaigns, we can further support, showcase and promote more local talents and products to elevate their presence and grow the local industry to new international heights", said Michael Goh, president of Resorts World Cruises.
"Representing Warner Music Malaysia, I am very pleased that we were able to collaborate with Resorts World Cruises on the launch of Alif Satar & The Locos' latest album. I am also proud that Alif Satar & The Locos will be the first local artist to have this unique opportunity to launch an album on this luxury ship, the Genting Dream," added Carter Ng.
Source – Cruise Industry News