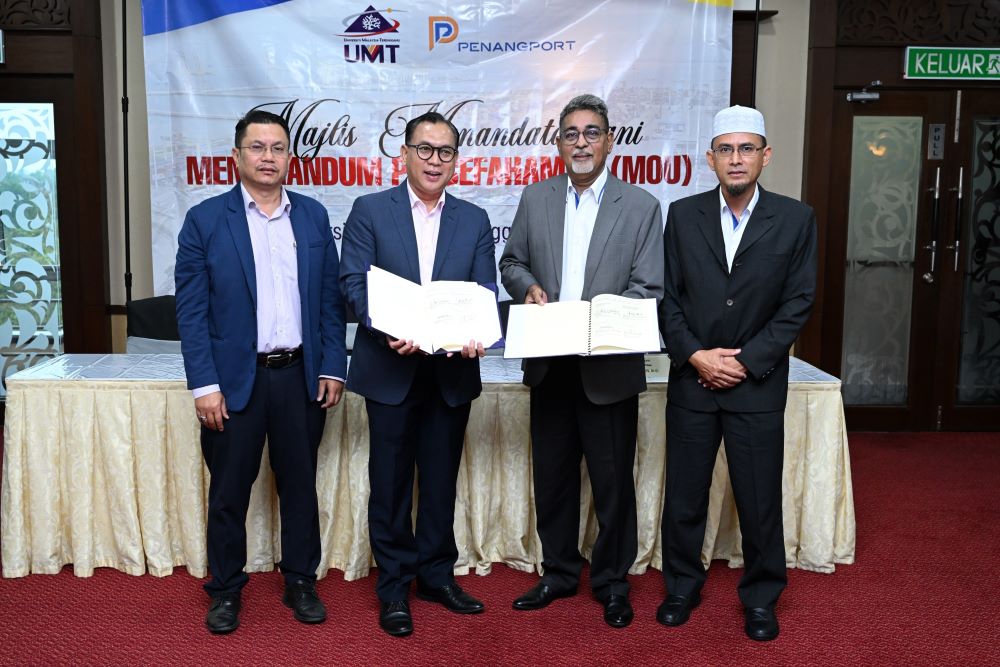 Penang Port Sdn Bhd (PPSB) has joined forces with Universiti Malaysia Terengganu (UMT) in a groundbreaking Memorandum of Understanding (MOU) aimed at spearheading sustainable practices and adopting advanced technology within the port and logistics field.
This transformative partnership, known as the Smart Collaboration Programme, will position PPSB as a leading Smart and Green Port, paving the way for other industry players to follow suit.
The MOU signing ceremony took place at Universiti Malaysia Terengganu between PPSB, represented by Mohamed Shaffi Khatri Abdulla, Head of Corporate Services Division and UMT represented by Professor Ts. Dr. Mohd Zamri bin Ibrahim, Deputy Vice Chancellor (Academic & International)
Through the MOU, PPSB and UMT have identified several key areas of collaboration. The exchange of staff between the two entities for industrial programmes will bridge the gap between academia and industry, fostering knowledge sharing and the exchange of practical experiences. This will result in the development of well-rounded professionals who can readily adapt to the demands of the industry.
Joint academic programmes will enable PPSB to tap into the pool of talented individuals at UMT, harnessing their expertise to address the specific needs and challenges faced by the port and logistics industry. This strategic alignment of academia and industry will ensure that graduates are equipped with the relevant skills and knowledge required to excel in the field.
"The partnership will focus on research and development programmes to drive innovation and improve efficiency within port operations. By leveraging cutting-edge technologies, PPSB and UMT aim to set new industry standards and enhance overall productivity. The collaboration will also include workshops and training programmes to cultivate a culture of continuous learning, empowering employees to stay at the forefront of industry advancements," said Mohamed Shaffi.
The long-term vision of the collaboration is to position PPSB and UMT as a centre of excellence for research and development in the port and logistics industry. By tapping into UMT's expertise in renewable energy and marine environment technology, PPSB aims to align itself with sustainable development goals. The integration of these technologies within the industry will mark a significant milestone and set a precedent for others to follow.
The collaboration between PPSB and UMT is set to unlock numerous benefits for the port and logistics sector. The ability to secure government and private research and development grants will reduce the costs associated with implementing pilot projects, thereby maximising their outcomes and deliverables. Furthermore, the collaboration may lead to potential tax waivers or reductions, freeing up resources for the success of these projects.
With a focus on continuous personal development, training programmes will enhance skills, knowledge, and experience, creating a highly skilled workforce capable of meeting the fast-evolving demands of the industry. PPSB and UMT aspire to be trailblazers in the field, driving innovation while setting new industry benchmarks.
This collaboration is a testament to the commitment to innovation, sustainability, and the overall betterment of the port and logistics industry. Together, PPSB and UMT are poised to redefine the industry landscape, achieving remarkable outcomes through this partnership.