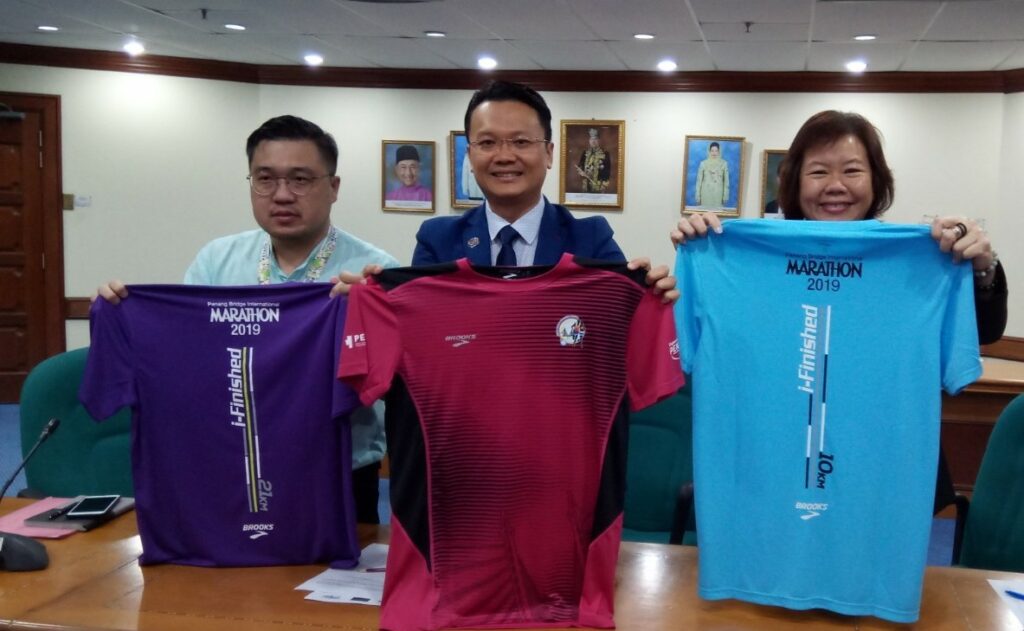 By V. Sivaji
Good news for those who have not yet registered for the Penang Bridge International Marathon (PBIM) starting off from the Queensbay outdoor car park on Sunday, November 24, 2019.
Potential participants for the Full Marathon, Half Marathon and 10km Run can still register till Thursday, August 15, 2019.
"Due to overwhelming response from runners and marathon enthusiasts since we unveiled the medal design two weeks ago, we have decided to extend the closing date.
"Registration fee for late bird entries (Aug 1 to 15) is RM150 for any one of the category," said PBIM committee chairman Yeoh Soon Hin who is also the state exco for Tourism Development, Arts, Culture and Heritage.
He also urged those who are interested to do their registration as soon as possible since no more entries will be entertained beyond the stipulated date (Aug 15).
Yeoh also unveiled the Finisher T-shirts which are sponsored by sportswear, Brooks for the three categories at the press conference at Komtar recently.
Participants of the Full Marathon, Half Marathon an 10km Run who complete their race within their respective qualifying time of 7 hours (Full Marathon) , 3 hours 30 minutes (Half Marathon) and 1 hour 30 minutes (10km Run) will be eligible for the Finisher T shirt and medal.
Yeoh also added that the organising committee hopes to host a quality run rather than a run just focusing on quantity of runners.
Some 23,000 local and foreign runners took part in the PBIM last year as for this year the number has already exceeded this mark.
The registration link is http://www.penangmarathon.gov.my
For enquiries email [email protected]