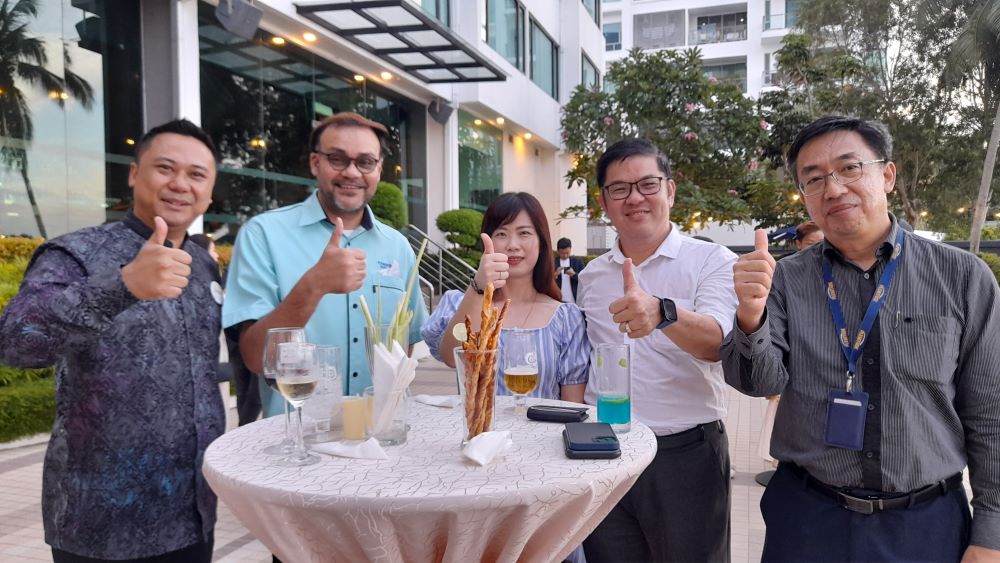 Gerard (far left) with Tourism Malaysia Northern Region director Shahrul Aman, Woo Hing Siang, Plenitude Head of Operations, Northern Region (far right) and guests.
By V. Sivaji
The hospitality industry in Penang has a new face among its fraternity. Gérard Chan is the new resort manager of Mercure Penang Beach Hotel in Tanjung Tokong.
He hails from Kuala Lumpur and actually took up computing engineering in his early days before venturing into the service industry.
Chan is of Malaysian of mixed heritage of Dutch, Portuguese and Chinese and was raised in Kuala Lumpur.
"I am from a family of six. I found passion in the Food & Beverage industry as I was doing some side gigs while studying. I then enrolled into Taylor's College to complete my Hotel Management course back in 2001," he adds..
Gerard started his hotel journey in 2006 as an assistant food and beverage manager in Lake Kenyir Resort & Spa, Terengganu. His career then took him to Seychelles, Vietnam and Saudi Arabia, where he gained experience in pre-opening, food & beverage, and operations. From 2012 to 2016, Gerard founded and managed an imports start-up in Seychelles, which expanded from supplying three to 85 retailers.
He returned to the hospitality scene in 2017 with roles in food & beverage, and took up an executive assistant manager's position in 2020. Prior to his appointment with Mercure Penang Beach Hotel, Gerard was the hotel manager for Trinidad Suites Johor, Trademark Collection by Wyndham in Malaysia.
"The immediate plan is to create awareness of the hotel in the market domestically and internationally. It is also my plan to work closely with the local community and to support the local businesses to prosper together.
"Penang is actually my mum's hometown. Therefore, it is not new to me in terms of food and as a holiday destination. I just need to watch my weight as Penang food is fabulous," he quipped.
When it comes to his management style, he has always practised an open door policy when it comes to handling colleagues and staff members.
"I believe in developing internal talents and to empower the team members," he added.
He loves travelling and hopes to travel and explore more countries, love nature and occasionally enjoy gin & tonic or sauvignon blanc. Deep sea fishing and diving is a favourite pastime (PADI Certified Advanced Open Water Diver) and he is also a staunch fan of Manchester United.
"My personality strives to have a positive impact on other people for the greater good in achieving success together.
"My life ambitions are to achieve greater career goals and by doing so, I will be able to provide a much better lifestyle for my parents. It is my turn to ensure they have the best lifestyle as long they are around me.
My inspiration in life; "Don't let yesterday take up too much of today" – Will Rogers
Penang Hyperlocal wishes Gérard all the best in his undertakings and to bring Mercure Penang Beach Hotel to greater heights.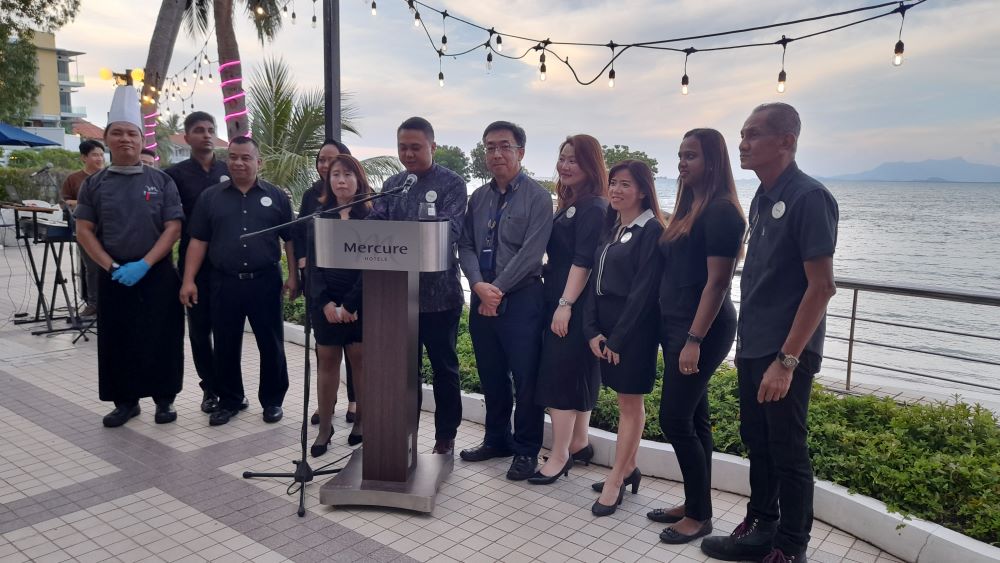 Gerard with his team