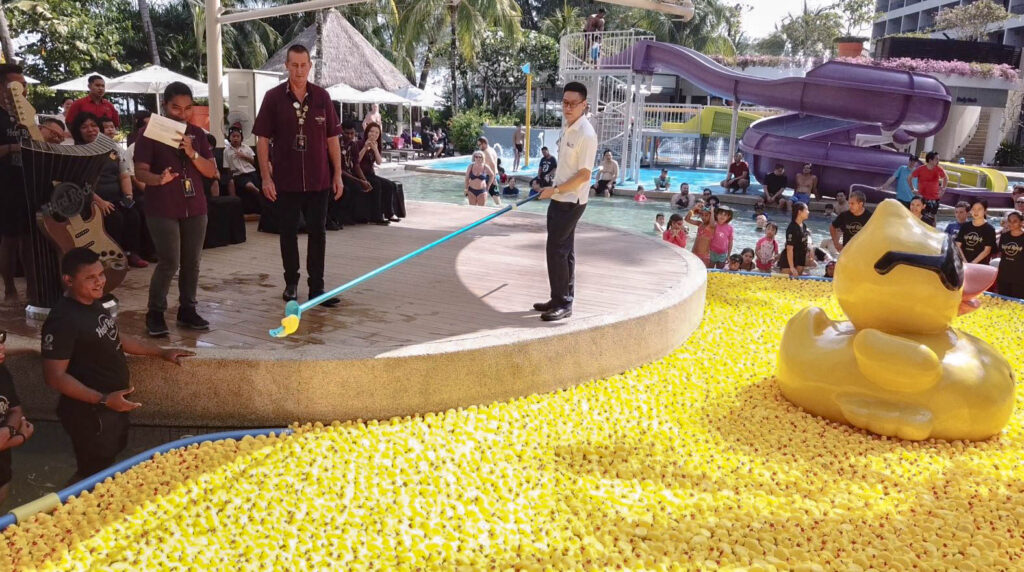 Hard Rock Hotel Penang, while rockin' hard, always cared about the community around them, taking their "Take Time to be Kind" motto seriously.
One such initiative which was launched in July 2018 was the Rock-A-Duck charity programme.
Funds raised from the project were channelled towards SJK (C) Poay Wah, a national-type Chinese primary school in Tanjung Bungah, Penang.
The funds were raised by selling 10,000 of the hotel's limited-edition rubber ducks.
The moolah from the sales was used to upgrade the school's facilities such
as building a new guardhouse, new roofing and concrete floors for the students' walkway and a new LCD projector set and screen.
In addition, a new set of speakers, amplifiers and an electronic marquee screen were purchased.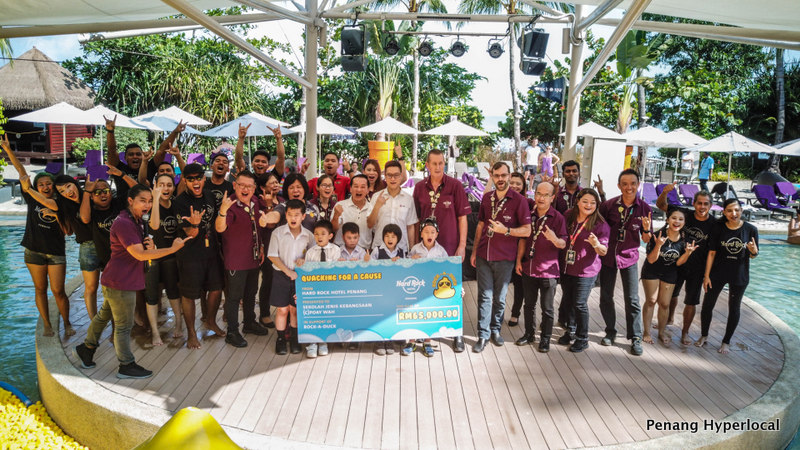 Each duck was sold for RM10 nett each with three grand prizes – a two-night stay in a Seaview Deluxe room at Hard Rock Hotel Penang (total value of RM2,300), a two-night stay in a Lagoon Deluxe room at Hard Rock Hotel Penang (total value of RM2,800) and a three-night stay in the legendary King Suite inclusive of a RM500 cash voucher (total value of RM16,000).
A total of 10,000 ducks were sold over the past eight months and another 10,000 ducks were released into the swimming pool at the hotel during the Rock-A-Duck lucky draw event day.
State Executive Councillor for Public Works, Utilities & Flood Mitigation, Zairil Khir Johari was on hand at the Rock-A-Duck lucky draw event to select three lucky winners.
A mock cheque of RM65,000 was presented to the school's principal, Lian Poh Lai.
With the donated funds, Hard Rock Hotel Penang has granted the school with the upgraded facilities during the recent school holiday in March 2019.
"We are truly blessed to have dedicated volunteers from Hard Rock Hotel Penang and the kind support from donors.
"On behalf of the school, we would like to thank everyone who has made this campaign a success.
"Your kindness and generousity are very much appreciated," said Lian adding that the students are overwhelmed with the new technology and having a shelter above their heads has certainly put a smile on their faces.
Meanwhile, Hard Rock Hotel general manager, John Primmer said that philanthropy is the heart and soul of the Hard Rock brand and Hard Rock Hotel Penang has been actively involved in giving back to the local community since its opening in 2009.
"We are thrilled to see another year of great success and we would like
to extend our heartfelt gratitude to all supporters from our guests and people from all walks of life in this campaign," he said.