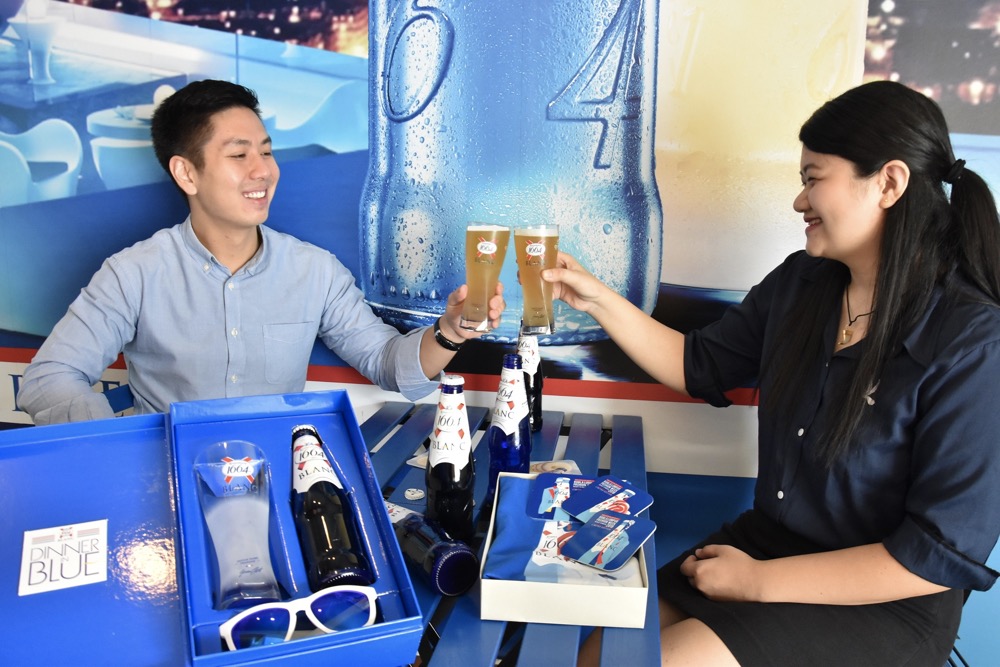 By V. Sivaji
Enjoy premium 1664 Blanc beer merchandise when you savour France's No 1 exclusive beer in the company of friends and colleagues.
Among the collectibles are branded glassware, designed by founder Jerome Hatt, premium gift box, coaster set, T shirt, sun glasses and more.
The 1664 Blanc is known for its unique refreshing taste with a hint of citrus and tropical note.
"To continue inspiring good taste, 1664 Blanc recently launched the "Dinner in Blue" campaign to add a touch of elegance at every dinner moment with style.
"The campaign aims to illuminate the dinner experience of beer lovers with its great brew and exciting promotions, elegantly crafted for consumers to share and enjoy with their friends and family," said Caroline Moreau, Marketing Director of Carlsberg Malaysia.
Featuring its beautiful iconic blue bottle inspired by the Eiffel Tower, 1664 Blanc is the representation of its origin produced in a country of fine taste and fashion.
"Further, following our collaboration with KL Fashion Week 2019 as official beer of the annual fashion event, 1664 Blanc hits the fashion scene anchoring its passion for art and creativity. "Unifying art, fashion, and good taste; 1664 Blanc promotions are customised to reward consumers with exclusive designer merchandise with an added touch of elegance to their dinners," added Moreau.
Elevate your dinner moments in style as 1664 Blanc partners with more than 100 participating bars and restaurants to reward diners with a chance to win 1664 Blanc glassware when enjoying 1664 Blanc.
As for the glassware, the etchings of nucleation points at the base of the glass improves carbonation and coupled with its high centering to retain the freshness of a great brew.
Embossed with the 1664 script which dates to the creation of the brewery, this makes the glass a must have for beer lovers.
Get these exclusive designed merchandises to illuminate your dinner when savouring the refreshing 1664 Blanc.
Instantly get a free three-piece elegantly designed coaster set with every purchase of a four can pack of 1664 Blanc at supermarkets and hypermarkets or if chilling out with friends, revel in the good taste of 1664 Blanc at bars or restaurants when you buy three full pints, six half pints, one bucket or a tower of 1664 Blanc.
Further, stand to double your winnings with a 1664 Blanc premium gift box comprising a 1664 Blanc bottle, a 1664 Blanc 0.25cl glassware and a stylish pair of sunglasses!
Other premiums include a 1664 Blanc designer t-shirt or a beautifully designed 1664 Blanc 0.25cl glassware!
To enjoy the same exclusive gifts, don't miss out on this special promotion when purchasing 1664 Blanc at convenience stores.
Spend RM20 and above on 320ml or 500ml 1664 Blanc and relish these awesome gifts while stocks last.
For more exciting activities by 1664 Blanc, visit www.facebook.com/KronenbourgMY or www.carlsbergmalaysia.com.my.