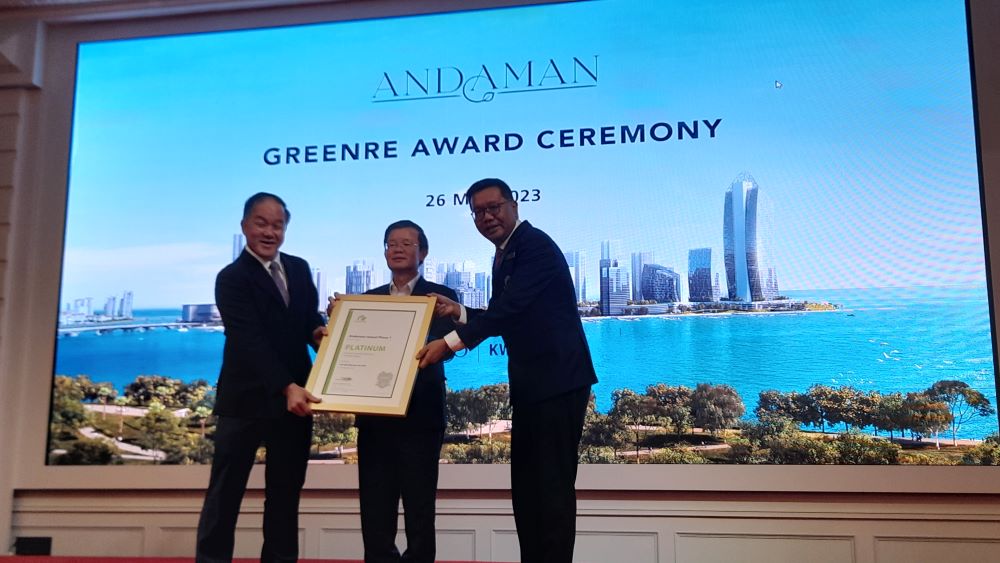 Dato Rick Cheng presenting the award to Datuk Tee. Looking on is Penang CM.
The Eastern & Oriental Berhad received the ultimate recognition for its green and environmentally friendly initiatives when they were recognised for the GreenRE Platinum Provisional Certificate under the Township Category for Andaman Island Phase 1 and GreenRE Platinum Provisional Certificate under Residential Category for the Meg and Arica service apartments.
On hand to witness the ceremony was Penang Chief Minister YAB Chow Kon Yeow along with State Exco for Housing, Local Government, Town and Country Planning YB Jagdeep Singh Deo, YB Phee Boon Poh, Exco Environment and Welfare and YB Zairil Khir Johari, Exco for Infrastructure and Transport.
Also present was E&O's Executive Chairman Tee Eng Ho, Managing Director Kok Tuck Cheong, Penang Island City Council Mayor Dato A. Rajendran, Dato' Rick Cheng, REDHA Malaysia National Council Member among others.
The award was for E&O's subsidiary, Persada Mentari Sdn Bhd which is a joint venture between Tanjung Pinang Development Sdn Bhd and KWEST Sdn Bhd.
Chow in commending E&O Bhd also added that the recognition is a benchmark for other developers in the country.
"This milestone marks the first GreenRE township that has attained the Platinum certification in Malaysia.
"It also denotes Persada Mentari's firm commitment to sustainable development where they have adopted principles and initiatives that foster green living, community-building, energy and water efficiency, and waste management practices to conserve our precious natural resources.
"It also provides the platform for the engagement of all stakeholders and the people of Penang to identify and combat the current and future environmental challenges of the state by proposing feasible solutions," said Chow.
He also added that the residential and commercial buildings form the backbone of urban development and have a significant environmental footprint.
"As such, we encourage future developments that have a low carbon footprint with sustainable practices and green construction methods to build better living spaces for everyone.
"Under the Penang Green Agenda 2030, Penang is to have at least 5 green townships by 2030 and Andaman Island Phase 1 is setting a high benchmark by achieving Platinum Provisional Certificate.
"Across from Andaman Island fronting Gurney Drive, the 131 acres Gurney Wharf recreational waterfront park is another effort of the Penang Green Agenda 2030 where the iconic tourism attraction of Gurney Drive is enhanced with public facilities for the people," he added.
In the meantime, E&O Bhd will also build some 1,000 low and medium cost homes on the Andaman Island in line with the state government's vision to offer a "roof over the head" for the impoverished community in the state.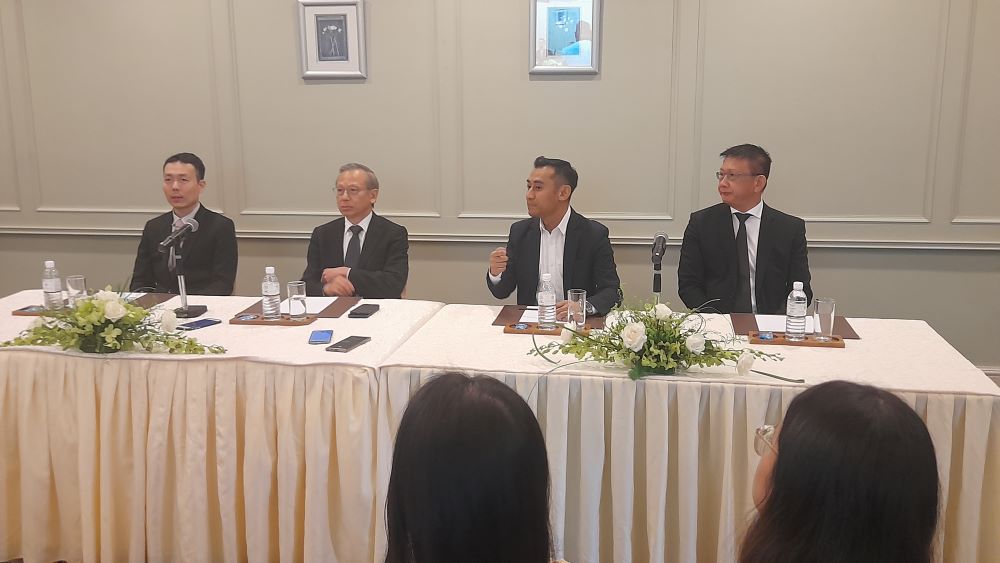 Press conference at the E&O Hotel