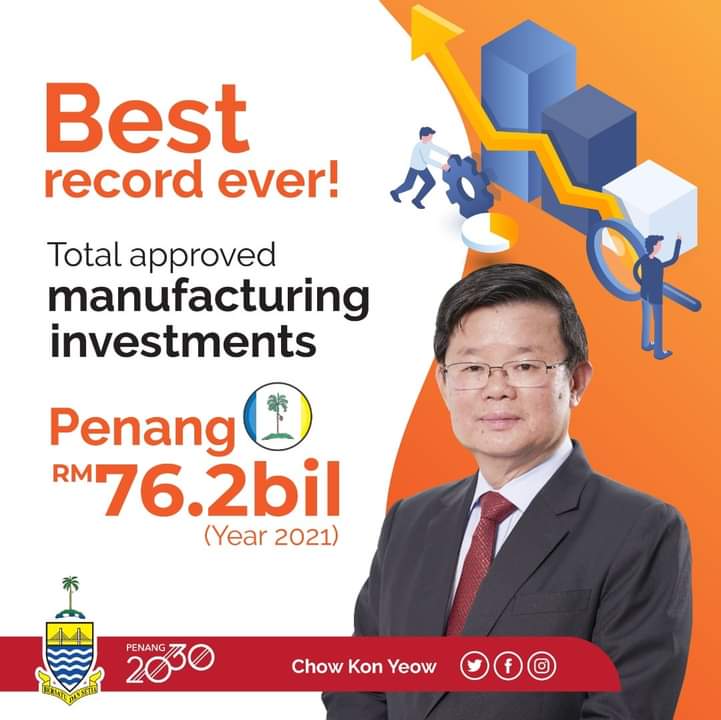 Penang managed to attract a whopping RM76.2  Billion investment for the year 2021.
This very impressive record is an all-time record of sorts as it surged 440% year-on-year.
The numbers are based on Malaysian Investment Development Authority (MIDA) data for 111 projects and are mainly reinvestment here.
Among the main investors are Intel, Ibiden Electronics among others.
Penang Chief Minister Chow Kon Yeow said that the Covid-19 pandemic did not put a damper on attracting investors.
"We continue to excel in Electronics and Electrical (E&E), Machinery & Equipment, Medical Technology and other related areas.
"These investments are expected to generate tremendous supply chain localization opportunities, which bodes well for the homegrown companies too," he added.
He also expressed his deepest appreciation to all the investors on behalf of the state government.
Coincidentally, Penang is also celebrating its 50th of its industrialization this year. It is dubbed "50 Years of Excellence and BEYOND".
The feat is indeed very impressive record. Syabas Penang !