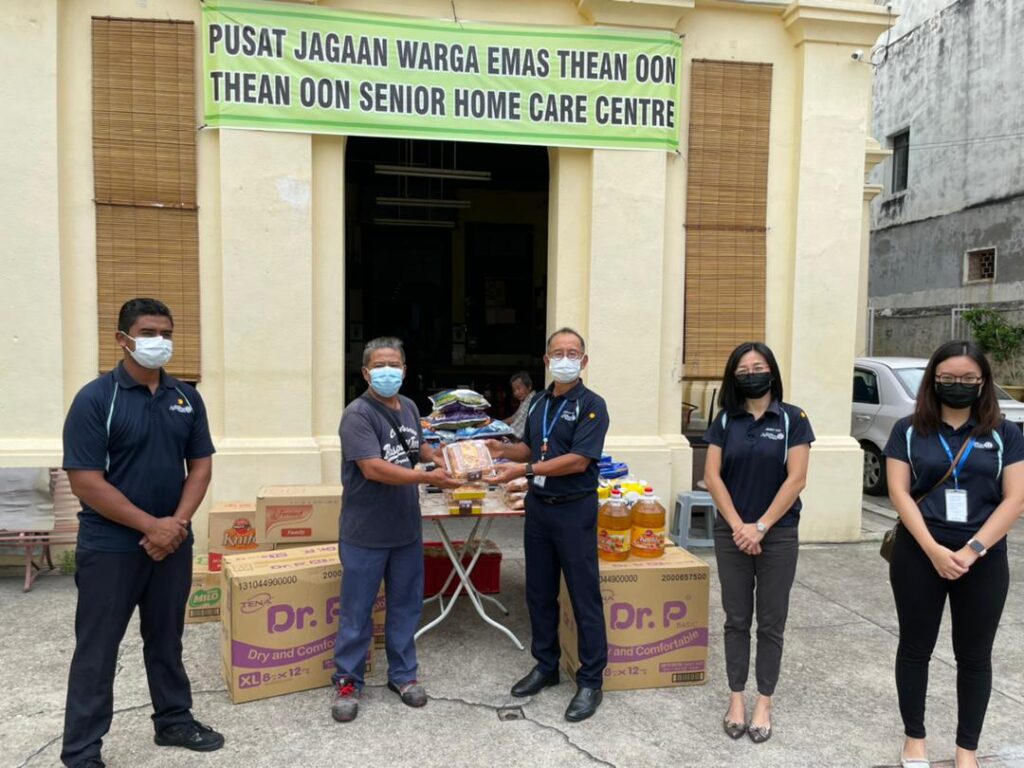 Some 13 charity homes in Penang received much needed donations in kind from Penang Adventist Hospital through their in-house recycling fund recently. 
A year has gone by since Covid-19 was declared a global pandemic and instead of licking our wounds, infection rates are still hovering at an alarming rate. 
The pandemic has caused devastating damage to the worldwide population, both socially and economically. It has forced us to change the way we do things, communicate with others, and we have also seen the crumbling of economic giants. 
In these continuingly turbulent times, it is to be expected that people would be struggling to keep themselves afloat. The scenario is the same in our own community. 
Notwithstanding, Penang Adventist Hospital (PAH) stood by their mission set forth by their founder, Dr. J Earl Gardner; to be of service to the needy in our community. 
The charity homes, housing orphans, children from low income and single parent, the mentally challenged and the elderly which are solely dependent on donations to operate, while the pandemic has made it unduly difficult for them to secure the funding they need to continue running smoothly were selected as beneficiaries of PAH's Community Service Responsibility programme this year. 
Without these homes, multitudes of orphans, the elderly and the mentally ill patients would find themselves without a roof over them, the proper care and treatment they require.
The hospital has reached out and donated items that the homes find themselves in short supply of, such as food items, daily essentials, over-the-counter medication and the crowd favourite, the Adventist Bakery items. 
This CSR programme was made possible, through the fund raised from the hospital's in-house recycling project. A total of RM17,500 was disbursed for this purpose. 
"At this point of the pandemic, there are many people who are feeling down and are at a loss because of the loss of income and the difficulties that they face. These charity homes are not spared.
"As a mission hospital, it is also our responsibility, to be on the constant lookout and reach out to those in need in our community. We will strive our level best to play our part, both medically and socially for the benefit of our community." said Adventist Hospital chief executive officer, Ronald Koh.
Among the beneficiaries were Pertubuhan Kebajikan Da Zhi Jiang Tang, Together Charity For Special Home, Pertubuhan Penyayang Chi Yun, Shine Home Association, Bukit Mertajam, Agape Home 6. BE Home for Special Care, Gan En Tzi Jia, Rumah Kebajikan Seri Cahaya Pulau Pinang, Rumah Charis, Penang Handicapped Welfare Association, Persatuan Kebajikan Kanak kanak OKU, Bayan Lepas, Thean Onn Senior Home Care Centre and the Penang Cheshire Home.
The Penang Adventist Hospital (PAH) is part of an International Adventist Network of some 600 not-for-profit hospitals, clinics and dispensaries worldwide. The hospital was established in 1924 by Dr. J. Earl Gardner.