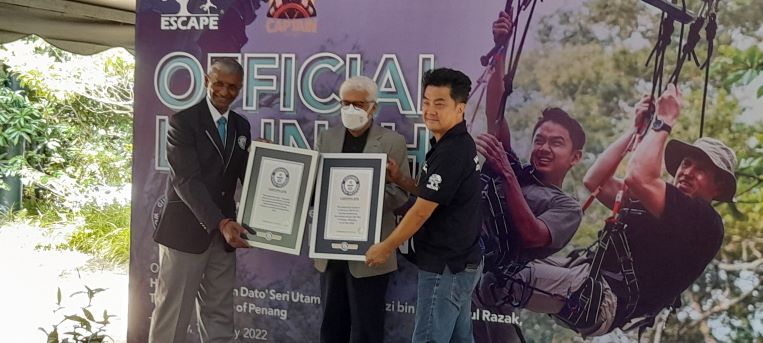 ESCAPE Penang achieved yet another commendable feat by being awarded the World's "Longest Zip Coaster" by Guinness World Record today.
The zip coaster ride takes adventure seekers on a 1,135 metre ride through tree tops to offer a thrilling, meandering and fun-filled journey.
On hand to launch the new attraction at the theme park was Penang Governor Tun Ahmad Fuzi Ahmad Razak along with Sim Leisure Group founder and chief executive officer, Sim Choo Kheng.
Presenting the award was Guinness Book Record (GWR) Adjudicator Pravin Patel in the presence of the chairman of Federal Oats Mills Sdn Bhd, Dato Seri Lee Kah Choon.
For the record, ESCAPE Penang already holds the Guinness World Record for the "Longest Tube Slide" in the world.
"The idea to install this zip coaster was conceived during the Covid-19 lockdown and we spent around RM700,000 installing the track. We faced several challenges in making the project come true.
"As it was a jungle area we could not bring heavy machinery into the installation site. We have ensured the safety of the riders and guests can ride the zip coaster in tandem," said Sim.
In the near future, they also plan to build nature based accommodation for 200 units to turn the theme park into a full-fledged resort. 
Meanwhile, Tun Ahmad Fuzi commended ESCAPE Penang for their vision and making the Sim Leisure brand an international name. 
"We are glad to know that Sim Leisure is behind some 300 projects around the world and are looking to expand their reach to countries like Oman, Saudi Arabia and Qatar," said Tun Ahmad Fuzi.
He also called on more Penang-based companies to spread their wings across the globe. 
Among the future plans for Sim Leisure Group are the "Longest Dry Ski Slope" project  in Cameron Highlands, Pahang and other theme park projects in China and Sri Lanka too.
Meanwhile, ESCAPE Penang has partnered Captain Oats, a Penang-based company to host a monthly Captain Oats Energy Run for a healthy lifestyle.
Also present at the event was Philip Whitaker, Commercial Director and Milan Vanek, Director of Safety.