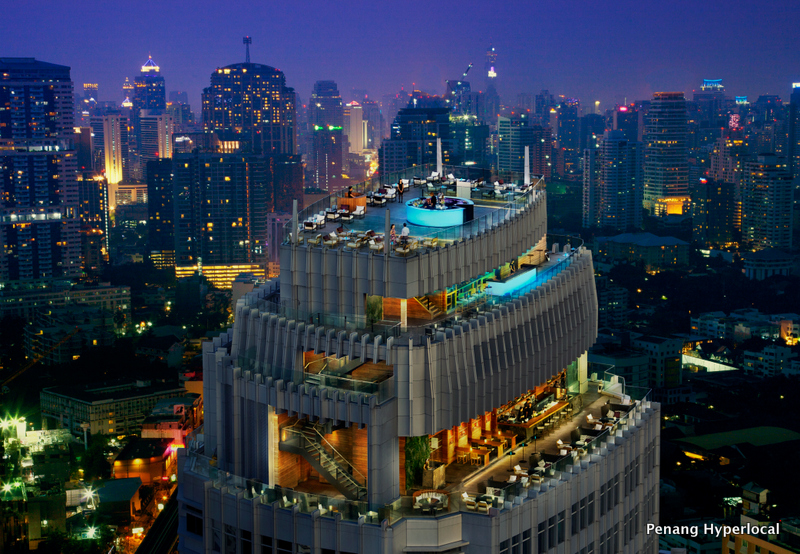 By Elizabeth Dass-Brown from Bangkok
In a city that pulses at every turn, Bangkok's Thong Lor district is the place known by locals for having a diverse mix of dining and entertainment locations.
It's where celebrities and executives trawl after work hours, and where holiday makers and visitors come in search of good classy eating and drinking places.
Octave Rooftop Lounge & Bar, located on the 45th to the 49th floors of the Bangkok Marriott Hotel Sukhumvit raises the bar with all that a Bangkok trendy restaurant and bar has to offer.
Modish interior galore
The people behind this impressive hip-yet-matured outlet have differentiated food and beverage offerings by providing that all-important modern twist that further accentuates its unique multi-zone trademark as a favourite choice when it comes to Thong Lor.
Octave boasts a stylish modern-industrial décor, heavily reliant on light brown wooden furniture and steel accents, with a blue-hue theme running throughout.
Stunning views of Thong Lor
The first level, located on the 45th floor features a long balcony filled with fashionable sculpture-like sofa seating to one side and proper wooden dining tables to the other.
Take the stairs up to the second level and you'll find a couple of modish private rooms, while the third level is another balcony bar area with its clever non-seating area.
The highlight of Octave is the sensational rooftop floor which offers an unimpeded 360-degree view of Bangkok's cityscape, idyllically featuring an engaging circular open bar in the middle.
Funky house music
This is indeed a stellar rooftop bar that brings to life the sounds, sights and skyline of this amazing city every night with resident live DJs spinning smooth and funky house repertoire to chic crowds.
As tantalizing as the views, Octave's signature cocktails –Thai Mojito and Siam Fizz are a must.
In addition, the signature cocktails created by an in-house mixologist provide welcome twists on the classics.
Showcasing the finest in wines, Proseccos and cocktails with new-age culinary creations like contemporary Asian-style tapas platters, snacks and seafood bar.
Octave is effortlessly the hippest destination in the city.
Craft beers at your beck and call
Zoom up to the 48th floor and quench your thirst for craft beers. Explore an
astonishing variety of ice-cold brews from refreshing lagers and hoppy IPA, to peppery wheat beers and classic blonde ales.
Octave is a proper rooftop bar and you will not be disappointed. The stunning urban views on offer speak for themselves and are some of the most impressive in the city.
Add in some 'twisted' cocktails, tasty tapas platters and a stylish but unobtrusive soundtrack and you've got a fine recipe for a chill evening in the city that never sleeps!
The Octave Rooftop Lounge & Bar is open daily from 5.00 pm to 2.00 am. For further information and reservations, call +66 (0) 2 797 0000 or contact [email protected] or visit their Facebook page www.facebook.com/OctaveMarriott