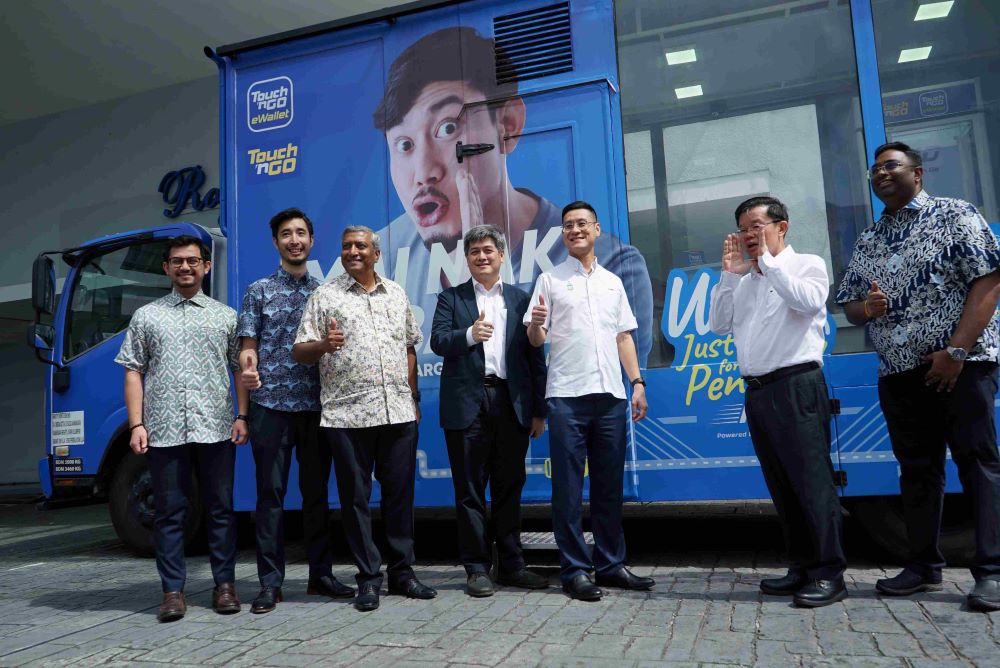 Penang Chief Minister YAB Chow Kon Yeow was on hand to launch the Touch 'n Go campaign at the Royale Chulan Penang yesterday..
Dubbed the "Walao Eh Just In Penang" roadshow, it will run from now till December 2023
The 3-month campaign is to encourage cashless and seamless payment options for an integrated mobility experience covering toll, transit and parking among Penangites.
Chow was greeted by Touch 'n Go Chief Executive Officer, Praba Sangarajoo and his team. Also present was State Exco for Transport and Infrastructure YB Zairil Khir Johari.
"Penang has a clear objective of building a resilient digital infrastructure by 2030. Considering the pivotal role that transportation plays in the development of any city or region, an efficient mobility ecosystem not only enhances the quality of life for residents but also drives economic growth and environmental
sustainability.
"Being a homegrown fintech company and a pioneer in integrated mobility solutions, Touch 'n Go is excited to play a key role in driving Penang's smart city agenda through the introduction of high-value products and solutions that incorporate the latest innovations in RFID and NFC technology to enable a seamless and integrated mobility experience for Penangites," he said.
In the meantime, Chow said that the implementation of e-payment services, such as Touch 'n Go RFID, is encouraged as it is convenient, efficient, and secure.
"With Touch 'n Go embarking on this journey with us, we are confident of the ability to achieve the state's mission to go 100 percent cashless by the year
2030. The state applauds Touch 'n Go's initiative and support, and we would like to take this opportunity to express gratitude for organizing this campaign to assist and equip Penangites with the right tools to go fully cashless."
A mock cheque for RM50,000 to Jabatan Kebajikan Malaysia for the development of key initiatives and programmes which focus on digital inclusion and tech literacy for the various local communities. Another mock cheque of RM15,000 was presented to Penang Heritage Trust for the preservation and conservation of heritage buildings in Penang.
In the meantime, a specially fitted mobile truck will be parked at key locations and Penangites will be able to enjoy special campaign offers on RFID tags as well as purchase exclusive Touch 'n Go bundle sets consisting of one RFID tag and an enhanced Touch 'n Go card. Users will also be able to enjoy instant rebates upon purchase of these products at the roadshow locations.
They can also opt to get complimentary fitment of their RFID tag to their vehicles by the fitment crew on site.
Beyond tolls and transit, Touch 'n Go's cashless convenience extends to seamless payments for car parks. There are approximately 1,500 Touch 'n Go-enabled parking sites nationwide, with 125 in Penang alone, where users need not worry about having enough cash for parking or locating a machine or kiosk to make payment. They can also have peace of mind within the car park vicinity when they sign up for Touch 'n Go's personal accident insurance/takaful,
ParkInsure, which provides them insurance protection within these carparks when they utilize their Touch 'n Go card for entry. At a premium of RM5 per month via the Touch 'n Go eWallet,
ParkInsure is affordable and accessible to all segments of the public..