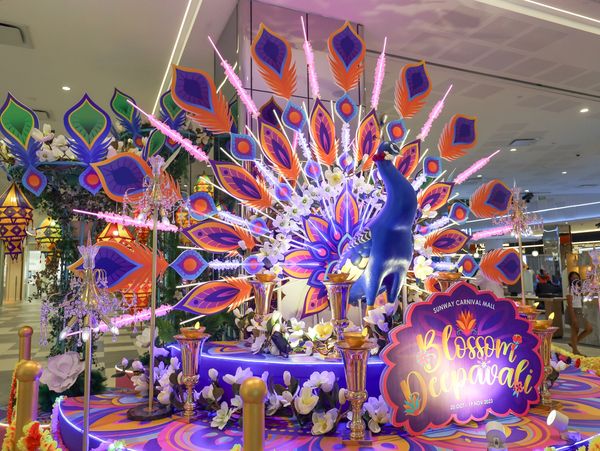 The giant peacock deco welcomes shoppers at the Sunway Carnival Mall
With Deepavali just around the corner, the Sunway Carnival Mall is ushering the Festival of Lights with their theme of "Blossom Deepavali" till November 19, 2023. 
Shoppers visiting the mall will have a truly amazing experience as they have prepared entertaining events and exclusive redemptions to enhance your shopping experience.
This year, they have transformed itheir atrium nto a mesmerizing floral paradise, welcoming patrons with the beauty of flowers symbolic of the festival's spirit.
Embracing the magnificence of this cultural celebration, the mall's entrance is adorned with the majestic sight of a peacock where its iridescent, lustrous tail unfurled splendidly alongside the vibrant Indian Magnolias that not only evoke a sense of joy and renewal but also serve as a testament to the celebration's radiant energy, symbolises auspiciousness.
The atmosphere at Sunway Carnival Mall is set aglow with the significance of prosperity and good fortune through the symbolism of the lotus flower.
Surrounding the peacock, these lotus decorations have been crafted from upcycled plastic bottles collected from the mall's F&B tenants.
This initiative not only emphasizes the essence of Deepavali but also reflects Sunway's unwavering commitment to the Sustainable Development Goals (SDGs).
Through this initiative, their aim is to show the members of the public about the impact of litter on our environment.
The festivities at Sunway Carnival Mall offers visitors a culturally enriching experience. Alongside the stunning floral decorations, a line-up of activities, including traditional performances, workshops, and special promotions, will be featured throughout the period of celebration.
Festivities also include traditional dance performances and musical instruments.