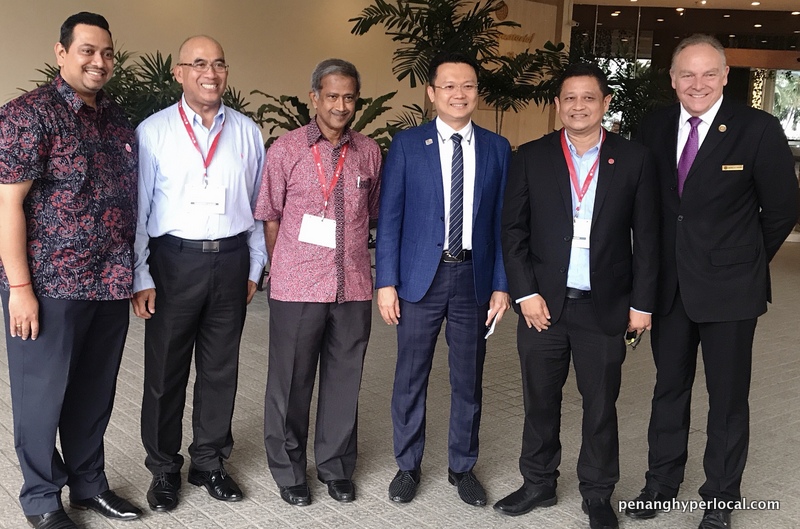 By V. Sivaji
In an effort to make Penang the sought after destination for business events and travel in the Asia Pacific region, the industry's players gathered at Hotel Equatorial Penang to chart the path recently.
The gathering was the Pacific Asia Travel Association (PATA) Malaysia Chapter's Inter-State Tourism Networking Session.
The networking session was hosted by Penang Convention and Exhibition Bureau (PCEB) and Hotel Equatorial Penang served as a platform for tourism and trade participants from outside Penang to meet up and interact with the tourism partners from Penang.
Present at the conference was Kamaruddin Baharin, Vice Chairman of PATA (Malaysia Chapter), Jonathan Freddy P. Bagang, Director of Ministry of Tourism & Culture Malaysia (MOTAC), Khoo Boo Lim, Chairman of Malaysian Association of Hotels Penang Chapter, Ashwin Gunasekeran, CEO of Penang Convention and Exhibition Bureau (PCEB), Ooi Chok Yan, CEO of Penang Global Tourism (PGT) as well as industry partners from Penang and Kuala Lumpur.
Guest of honour was State Exco for Tourism Development, Arts, Culture and Heritage, Yeoh Soon Hin.
"Business events are crucial for the economy and the development of Penang because the industry has the potential to go beyond just bringing in more quality tourists to the state.
"Penang successfully hosted over 200 international meetings with 106,265 delegates from across the globe in 2018.
"With a convention capacity of 30,000 and 14,389 rated hotel rooms, Penang is among the leading destinations in the region for corporate meetings & incentives and a rising association meetings destination.
Yeoh hoped that following the networking session, more exposure and opportunities could be opened up for tourism players to foster closer business relationships and enhance business opportunities with those outside the state and country.
He added that this is especially important with the recent launching of Experience Penang Year 2020 (EPY2020) Campaign with the tagline 'The Diversity of Asia' to usher in the excitement of Visit Malaysia 2020.
"The inspiration behind this campaign is the current trend within the travel industry: Experiential Travel. It has become the key word in the dictionary of millennials and travellers to document their experiences on social media.
"This is an effort in line with PETACH's 4R initiatives to restructure, rebrand, remarket and reposition Penang's tourism industry to greater heights.
"As Penang regards the tourism sector as an important engine for growth and economic development, we would need constantly be one step ahead in adapting to the changes within the tourism industry. We must always be open to innovation and be knowledge-driven to always maintain relevant in this industry, " said Yeoh.
Yeoh also paid tribute to PATA's efforts to complement the initiatives of the Ministry of Tourism, Arts and Culture and Tourism Malaysia in developing the country's tourism and raising the standards of professionalism within the industry through specific programmes and look forward to more being hosted in Penang to spur Penang tourism growth further internationally."
"I believe that with the right efforts, we are able to further entice visitors and tourists to make Penang their must-visit or must-return destination within the Asia Pacific region," said Yeoh.