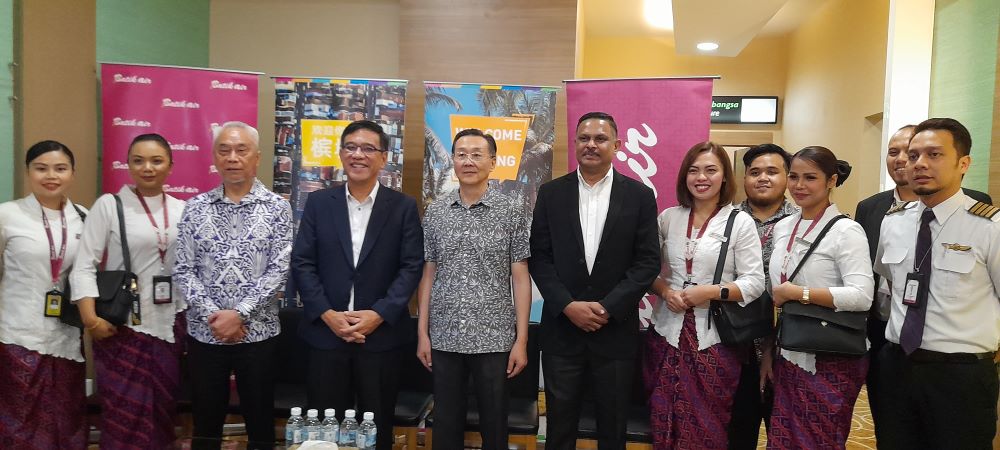 Wong (fourth from left) at the Batik Air Guilin-Penang inaugural flight ceremony recently
In a remarkable development that promises to transform Penang into an even more sought-after destination for travellers, a series of new flight connections from Chinese secondary cities is set to increase the island's accessibility in the coming months.
This significant progress in Penang's tourism industry is the result of strategic negotiations and collaborations led by the newly appointed Penang executive councillor for tourism Wong Hon Wai.
In an exclusive interview with Penang Hyperlocal, Wong unveiled the exciting developments that are poised to elevate Penang's tourism sector to new heights. One of his key initiatives was the personal leadership of a Penang delegation to the prestigious ITB China event in Shanghai. This visit aimed to foster relationships with airlines and related authorities and promote the expansion of direct flight routes to Penang.
One of the most anticipated additions to Penang's flight network is the Guilin-Penang flight connection via Batik Air, which commenced operations on Sept 17, 2023. The ambitious plans don't stop there. Penang is also eagerly awaiting the launch of a direct route from Xiamen to Penang by the end of this month, courtesy of Xiamen Air.
In Wong's own words:
Q: What's next for Penang tourism?
We want to focus on a multi-prong approach. It was important to keep Penang as a unique and attractive destination while preserving its rich cultural heritage. To achieve this, Wong wants to work closely with local businesses to curate travel packages that offer not only lodging but also immersive experiences, such as guided heritage tours and nature outings. Using data analytics to tailor marketing campaigns to visitor preferences and investing in sustainable tourism practices are also on the agenda to ensure Penang's natural beauty and cultural heritage are preserved for future generations.
Q: What's to like in Penang's tourism sector?
Penang has a diverse range of accommodations, from luxurious hotels to budget-friendly options, ensuring a comfortable stay for visitors. Its excellent transportation network, including the Penang International Airport and a well-connected road network, makes it easily accessible for tourists. The island's rich culture is evident in its historic sites, temples, mosques, and museums. George Town's UNESCO-listed architecture and vibrant street art are major highlights, showcasing Penang's unique cultural heritage. Also, Penang's reputation as a culinary paradise, with an array of dishes available at hawker stalls, street food vendors, and restaurants, continues to draw food enthusiasts from around the world.
Q: What do we expect from our MICE sector?
Penang's upcoming events offer a dynamic blend of cultural richness and tourism opportunities. Events like the Yosakoi Parade, which combines Japanese tradition with local flair, and the Mid-Autumn Festival, with enchanting lantern displays and mooncake delights, showcase Penang's cultural diversity. International travel fairs like Matta Fair Penang and the Nine Emperor Gods Festival blend tradition with global appeal, attracting a wide range of visitors. The island also embraces business tourism, with a focus on medical science and engineering, as evidenced by successful events like SEMICON Southeast Asia 2023, EMAX, and PMAX 2023. Future plans include hosting conferences like the 52nd Malaysian Orthopaedic Association Annual Scientific Meeting 2023, highlighting Penang's ability to organize medical-related events.
Q: How much will we grow as an industry?
Penang's tourism industry is evolving, with a notable shift towards medical tourism complementing its historical and natural attractions. The region's healthcare infrastructure is leveraged to establish itself as a prominent medical treatment destination. Remarkably, there has been a 500%-600% increase in medical tourism visitors from January to July 2023, indicating rising demand. Investment in private hospitals and industry collaboration position Penang as a competitive player in the medical tourism sector. This growth not only attracts patients but also boosts the local economy through related sectors.
Q: How do we further enhance the tourism landscape?
To strengthen international collaboration, Penang's state agencies and travel agent associations are adopting a comprehensive strategy. This includes regular participation in international travel exhibitions, destination-specific roadshows, and virtual meetings via digital platforms. These proactive measures aim to foster stronger connections, facilitate knowledge sharing, and cultivate mutually beneficial relationships, ultimately reinforcing Penang's global tourism presence. The Penang government is committed to encouraging more direct flights to Penang, with exciting developments on the horizon, such as the Batik Air route connecting Guilin and Xiamen Air's direct route from Xiamen.
In conclusion, Wong plans to be the driving force behind Penang's tourism resurgence
Separately, he also revealed his daily routine of unwinding through morning jogs, even when traveling to new destinations. This commitment to wellness reflects his dedication to Penang's tourism development, ensuring that the island continues to captivate the hearts of travelers from around the world.
With Wong's leadership and these exciting developments, Penang is poised to soar to new heights as a premier tourist destination.