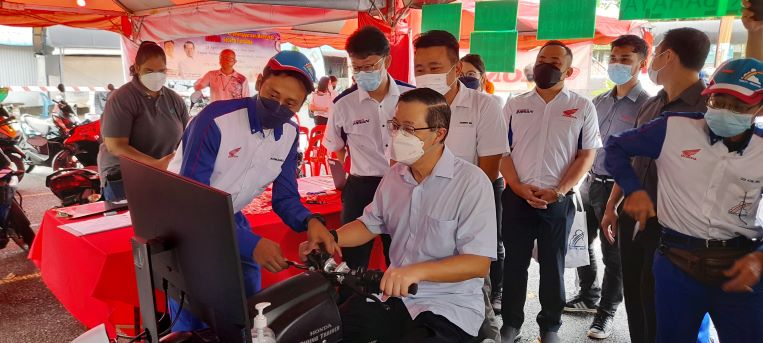 By V. Sivaji
A commendable corporate social responsibility (CSR) project was held in Ayer Itam today to benefit B40 group motorcyclists in the area.
Working with auto giant, Honda, they received free service and spare parts replacement at the event.
Former Penang Chief Minister / Finance Minister and state assemblyman for Ayer Putih, Lim Guan Eng along with state assemblyman for Ayer Itam, Joseph Ng were on hand to lend support for the collaboration.
Also present was Honda's Senior Manager (After Sales Department), Hiroshi Katsukawa, Andy Kiong (Senior Manager National Sales), Muhamad Shahril Zakariah (Safety manager) among others.
The one-day event saw overwhelming response from motorcyclists since Hari Raya is just around the corner.
"I commend Honda for this CSR initiative which will benefit the rakyat who have been affected by the Covid-19 endemic. We hope that they will take the opportunity to replace their engine oil, spark plugs, bike chains etc," said Lim.
Meanwhile, Kiong added that they had allocated RM34,000 for this project.
Honda also held a simulator to assess and improve the riding skills of motorcyclists at the programme.
They are also collaborating with USM to collect data and improve the safety and security of riders.
In a related development, Lim also called on the federal government to help the rakyat in view of the rising cost of living. 
"Due to the falling ringgit, Ukraine/Russia war and rise in petroleum prices, many goods have risen in prices.
"I call on the federal government to allocate RM5 Billion to fight against the rising cost of living," said Lim at the press conference.
Among the Honda models which were serviced at the programme were the Honda C70, C90, Wave 100, Wave Alpha and EX5.