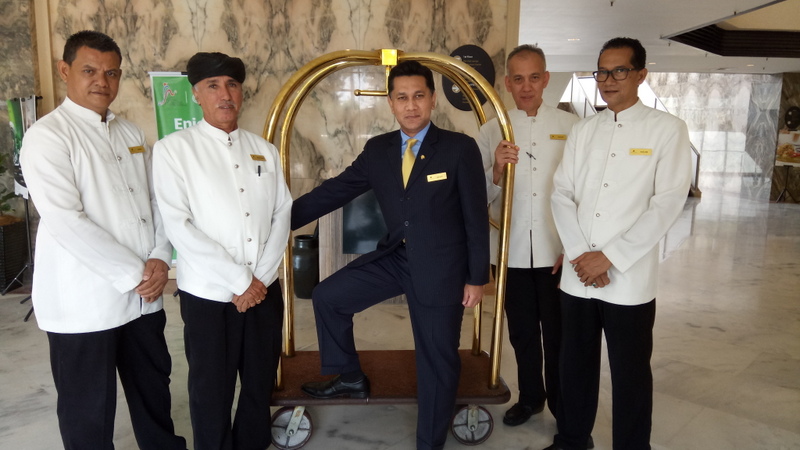 The current trend in the workplace has been best described as the "rolling stones era", where many do not stay long at one company for long, moving out to better opportunities.
But this was not the case for the concierge team at the Impiana Hotel Ipoh who have served between 20 to 34 years at the premier hotel in the city.
The concierge team of seven, consists of four senior members who have served loyally at the hotel over the years.
Among them are Bakjan Abudin Mohd Said, 56, and with 34 years under his belt, followed by Tanjit Singh, 60, with 33 years service.
The other two members of the unique senior league are Ahmad Abu Bakar, 50, with 24 years service and Mohd Razlam Razali, 55, with 20 years service.
The obvious question one may ask is why they decided to stay so long at one particular hotel?
To this, Bakjan says: "Over the years, we have become very familiar with all of the hotel guests, be it VIPs or regular guests.
"On top of this, the management is very supportive of us and all of us work as one family.
"It is also to be noted that every hotel has its own ups and downs, so we have to be adapt to any situation or problems."
Tanjit says it is all due to the great work environment, with new staff and temporary workers opting to come back to work with the hotel again.
"Some of them even opt to come back to work with Impiana Ipoh after their intership period," said Tanjit Singh.
The Impiana Hotel Ipoh is currently led by general manager Gerard Sta Maria who is always courteous and friendly to guests and staff alike.
"We very much value and appreciate our concierge team as they are proactive and hardworking and they know how to handle any situation with guests and staff."