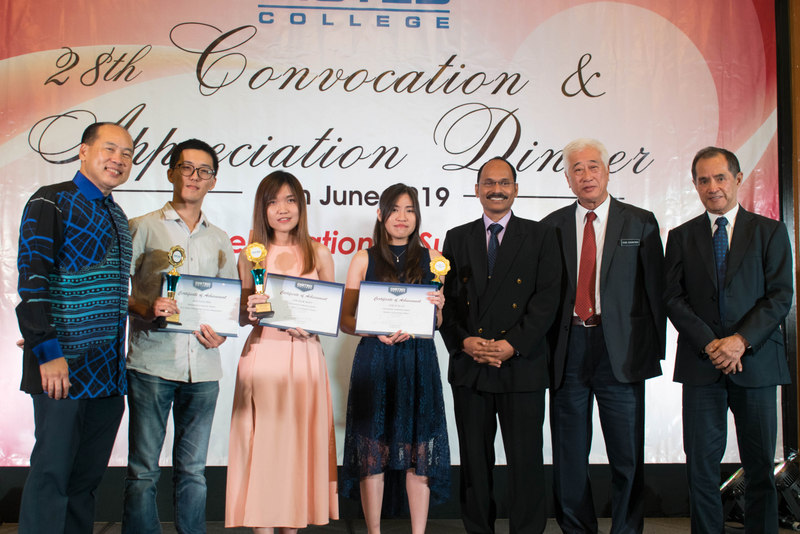 By V. Sivaji
DISTED College Penang celebrated its 28th convocation and appreciation dinner at the Cititel Penang recently where the top achievers and family members attended.
Guest-of-honour was State Exco for Welfare, Caring Society and Environment, Phee Boon Poh, DISTED College President and Chief Executive Officer, Dr Seah Soo Aun along with the chairman of DISTED Board of Directors, Dato Seri Stephen Yeap.
Others included members of DISTED's Board of Directors and Professor Ieuan Ellis, Pro Vice Chancellor for Partnerships and Region representing Staffordshire University, UK, Professor Datuk Dr Paul Chan, Vice Chancellor of HELP University and assemblyman for Pulau Tikus, Chris Lee Chun Kit.
The occasion also served to recognise the contribution and support by members of its industrial advisory panel, academic partners, collaborative partners, external examiners and various individuals associated with DISTED throughout the years.
In his opening remarks, Dr Seah acknowledged the support of those in attendance, especially towards Staffordshire University and HELP University who has been a long standing partner with DISTED.
"With all your support, DISTED has successfully groomed more than 10,000 alumni throughout its 32 years of existence and has given them the foundation to become productive members of society," he said.
He also congratulated the graduates and top achievers at this year's convocation while acknowledging their outstanding achievements and remarkable personal growth.
"Your outstanding achievement will echo throughout your lives and I have no doubt that you will excel in your future roles and contribute to the well-being of the society," he added.
"Graduating from your tertiary studies is one of your biggest achievements in your life, it's the pinnacle of one chapter in your life and the beginning of another great chapter for new achievements," said Phee in his address.
Among the highlights for the evening included the presentation of Performance Awards to DISTED education partners by Andy Tai, Head of Marketing & Communications and Dr Jerry Koay, Director of Academic Affairs presenting the Certificate of Appreciation to DISTED's industry advisors and academic panels.