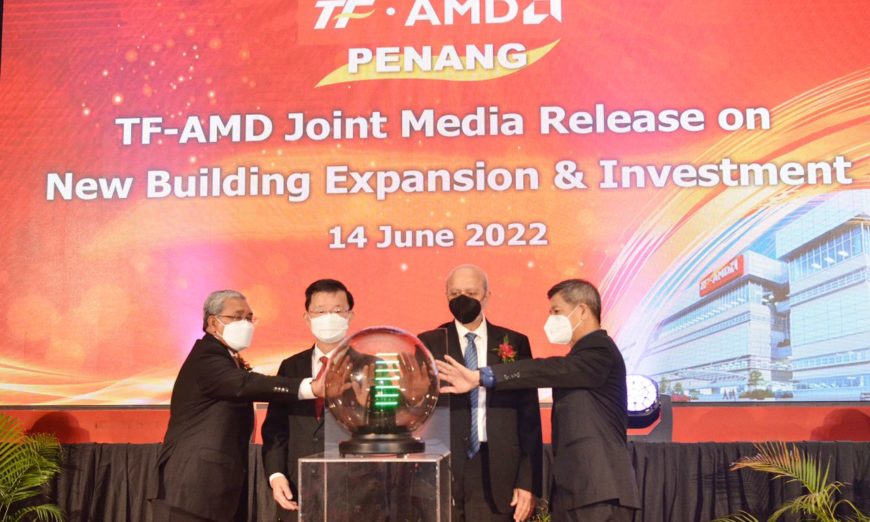 TF AMD Microelectronics Sdn Bhd announced a capital investment of nearly RM2 billion for its expansion plans for a second manufacturing facility at the Batu Kawan Industrial Park (BKIP).
It will consist of a 1.5 million square feet area to manufacture advanced integrated circuit technology.
The project will be ready next year (2023).
On hand to launch the project was Penang Chief Minister YAB Chow Kon Yeow accompanied by TF AMD vice president and managing director Neoh Soon Ee,
Also present was TF AMD chairman, Shi Ming Da, Executive Vice President, Chief Financial Officer and Treasurer, Datuk Devinder Kumar, State Exco for Entrepreneurial Development, Trade and Industry, Datuk Abdul Halim Hussain, InvestPenang Chief Executive Officer Datuk Loo Lee Lian, Malaysian Investment Development Authority (Mida) Chief Executive Officer, Datuk Arham Abdul Rahman and the Northern Corridor Implementation Authority (NCIA) CEO, Mohamad Haris Kader Sultan.

The second site at BKIP, according to Chief Minister Chow Kon Yeow, has greatly demonstrated the conduciveness of Penang's business environment, bolstered by its resilient supply chain, excellent infrastructure and future-proof talent pool.
Chow expressed his satisfaction in seeing TF AMD increasing its footprint in Penang.
"As a pioneer in this field and ever since making its presence here in Penang in 1972, we are pleased to see TF AMD deepening its roots here.
"I am confident that this strategic expansion plan will provide immense opportunities for local talent development in high-performance computing solutions.
TF AMD will also employ up to 3,000 workers in the next five years.
It is noteworthy to record that in 2021 Penang attracted an all-time high of total approved manufacturing investment of RM76.2 billion.