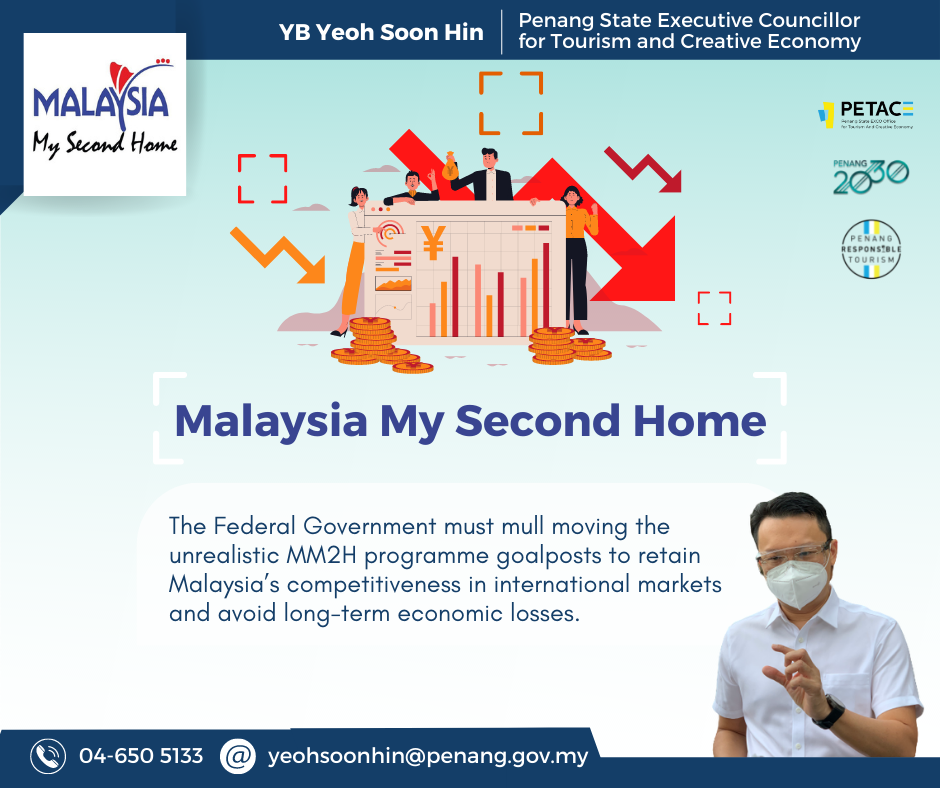 Malaysia should not be making international headlines for the wrong reasons.
This is following the Federal Government's unrealistic Malaysia My Second Home (MM2H) programme requirement which will only drive away potential applicants for the programme.
"The shifting of goalposts to retain Malaysia's competitiveness in international markets will only force those keen to settle in Malaysia to other countries.
"This newly-rebooted MM2H programme will tarnish our long-standing hospitable image, potentially leading towards a plunge in foreign investments and exodus of expatriates, who are amongst the contributors to our economy," said Penang state exco for Tourism and Creative Economy, Yeoh Soon Hin in a press statement.
His statement also echoed Sultan Ibrahim Sultan Iskandar of Johor's urge to the Federal Government to lower the programme's threshold, especially its absurd financial commitments and requirements.
Yeoh said that the Federal Government's intention to reactivate MM2H to kickstart economic recovery is counterproductive, as the new conditions will drive away existing and potential applicants, subsequently reducing the overall spending, expenditures, and investments of MM2H visa holders.  
"The appropriate thing to do now is to retain the original programme framework and impose the 1% cap on applicant approvals for security reasons,"
"I understand there are some visa holders who abuse the MM2H programme but the Federal Government needs to review and evaluate the applicants on a case-by-case basis to ensure proper applicants are approved. It is unfair to penalise all applicants with these demanding requirements," said Yeoh.
Yeoh detailed that the Federal Government must play the volume game and target the larger market segment as the new conditions are tailored only to attract the high-end market, who often favour other premier destinations.
"My office has already received feedback that many existing MM2H visa holders are reconsidering the options provided by neighbouring countries, especially those with friendlier requirements,".
"Thus, the Home Minister must take prompt action to review the MM2H conditions by setting realistic financial requirements and appropriate visa validity," he added.
He also added that the new requirements practically undo our previous efforts in making Malaysia a forerunner for expatriates' relocation, powered by our affordable cost of living, multicultural community, and tropical climate.
"It is pivotal that the Federal Government immediately reviews the unreasonable conditions of MM2H to avoid loss of applicants which will definitely cause irreversible economic consequences," he said.