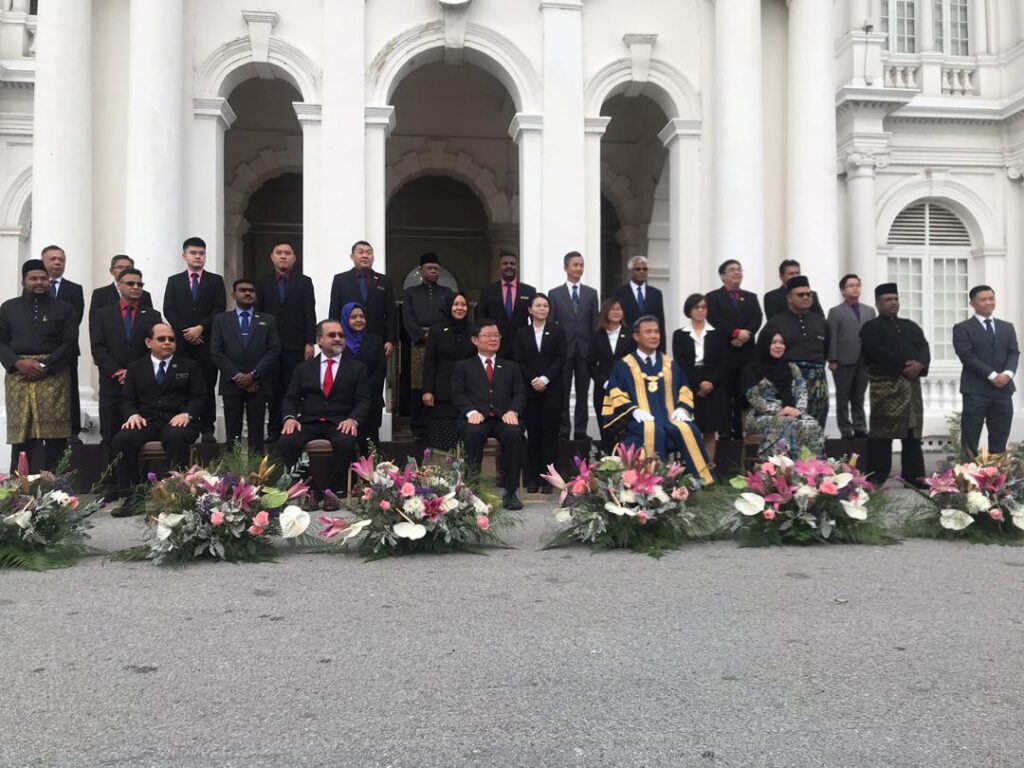 A new line-up of councillors have been sworn-in for the Penang Island City Council and Seberang Perai City Council for the year 2021 today.
A total of 24 councillors have been elected to each of the City Councils.
Among those who were sworn-in for the Penang Island City Council are Harvindar Singh Darshan Singh, Alan Lim Wei Lun, Rohaizat Hamid, Kaliyappan P.Renganathan, Lee Wei Seang, Quah Boon Lim, Tan Hooi Peng (Connie), Tan Soo Siang, Theng Jie Wey (Nicholas), Wong Yuee Harng, Francis Joseph, Mohd Suhairi Arumugam Abdullah, Tan Chiew Choon, Abdul Latif Mohamad, Nor Afni Md Yusuff, Ahmad Azrizal Tahir, Tan Seng Keat, Rodziah Abul Khassim, Mohamed Yusoff Mohamed Noor, Muhamad Khairul Mohd Ali,  Lee Chee How, Dr. Shahul Hameed,  Lee Kim Noor and Hari Krishnan Ramakrishnan.
As for the Seberang Perai City Council, those sworn-in are David Marshel a/l Pakianathan, Chee Yeeh Keen, Cheen Goon Hooi (Bernard), Heng Yeh Shiuan, Jason Raj Kirupanantha, Ng Yee Siang (David), Ngoh Cheng Hai (Jeff), Ooi Yong Wooi, Tan Chee Teong, Teh Chuann Yien (Rachel), Ahmad Rizal Abd Hamid, Fahmi Zainol, Ooi Boon Sheng, Ong Jing Cheng, Anuar Yusoff, Norly Masitah Mohamed Noor , Zainuddin Mohamed, Noor Azuawati Ahmad, Galaimani a/l Subramaniam, Muhamad Suzuki Ahmad, Mohd Saifullah Abd Nasir, Tan Bee Hong, Tan Choo Eng and Harryzan Yaakub.
Present at the ceremony was Penang Chief Minister Chow Kon Yeow, State Exco for Housing, Town and Country Planning, Jagdeep Singh Deo and Penang City Mayor Dato' Yew Tung Seang, 
Penang Hyperlocal wishes congratulations to those elected to serve the community and in turn, the community hopes that they carry out their duties diligently.