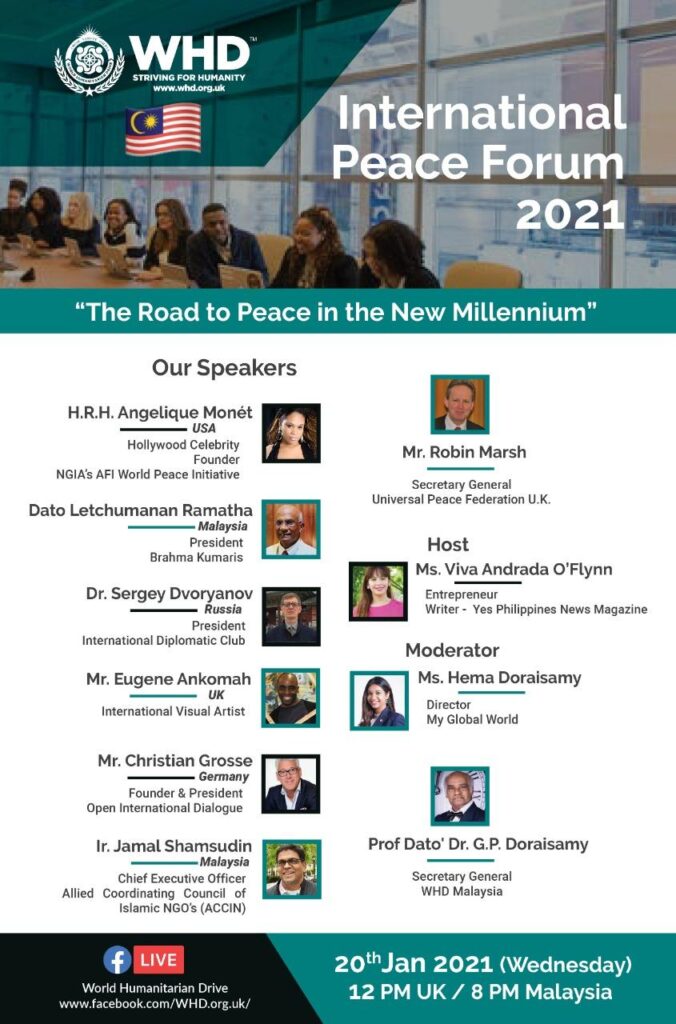 The World Humanity Drive (WHD) Malaysian Chapter, a non-governmental organization hosted an international forum on peace titled "Road to Peace in the New Millennium" where four Malaysian shared their ideas at the live streaming forum yesterday (Wednesday, Jan 20, 2021)
Among the Malaysian were, Hema Doraisamy, the director of My Global World (moderator) and Professor Datuk Dr G.P. Doraisamy, the secretary-general of WHD Malaysia who led the forum.
The event was held at 8pm local time and 12pm in the United Kingdom.
Other Malaysian speakers sharing the international platform were Datuk Letchumanan Ramatha, president of Brahma Kumaris, Malaysia, Jamal Shamsudin, chief executive officer, Allied Coordinating Council of Islamic NGO's, Malaysia.
More speakers were Angelique Money, a Hollywood celebrity, from the World Peace Initiative, Malaysia, Dr Surgey Duoryanov, from the International Diplomatic Club, Russia, Eugene Ankomah, International Visual Artist United Kingdom, Christian Grosse, Founder- president Open International Dialogue, from Germany and Robin Marsh, the secretary-general of Universal Peace Federation of the United Kingdom.
The event was hosted by Vivo Andrada O'Flynn, an entrepreneur and writer of Yes Philippines News Magazine.
Last May, the WHD Malaysian chapter hosted a similar event and recognized 10 Malaysian leaders who served the people during the Covid-19 pandemic and it hosted an international forum to promote global peace and harmony with several Malaysian leaders as speakers in the forum.
WHD is promoting Humanity towards Peace, Understanding and Harmony by creating awareness among the people in the world.