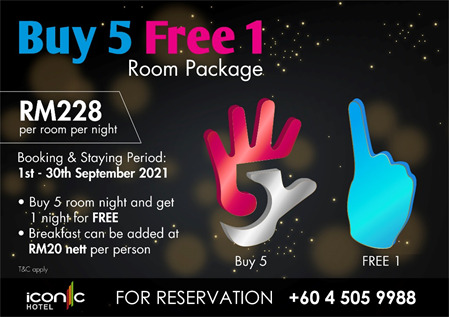 The Iconic Hotel is celebrating its 5th anniversary with special deals.
Due to the pandemic and for the safety of the staff, Iconic Hotel will not hold any celebrations this year. 
However, Iconic Hotel has launched some irresistible promotions to thank those who have supported Iconic Hotel over these 5 years.
In September, they are offering a limited time anniversary room offer for all guests.
They welcome all travelers and guests who are fully vaccinated. Lasting the entire month of September 2021, among them are their Room Promotion – Buy 5 Free 1 Room Package, Irresistible 5 Room Promotion and the Penang Lang Special Deal.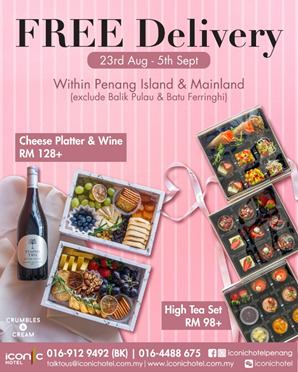 In addition, Iconic Hotel has launched a several F&B promotions this month.
They offer free delivery for those who prefer to stay home instead of eating out.  Their delivery area includes Penang Mainland and Penang Island (excluding Batu Ferringhi and Balik Pulau).
Iconic Hotel is owned by Iconic Group of Companies, a leading property developer based in Penang. In the past two years, Iconic Hotel has won up to nine awards including CTrip Chinese Preferred Hotel, Tripadvisor, Agoda.com, Booking.com, Expedia, Hotels.com, Luxury New Hotel, Luxury Design Hotel and Travel and Hospitality award winner.
Their 195 stylishly designed rooms deliver an "Impressive, Incomparable and Inspiring" experience with its three unique themes – Modern, Urban and Contemporary. 
Iconic Hotel also has 5 function rooms which can accommodate up to 400 guests, 1 conference room, a business centre, and 1 VIP dining room. 
The hotel recognizes the need for a healthy lifestyle and provides leisure services such as a swimming pool, 24 hours gym and sauna for guests to rejuvenate after a long tiring day.
The hotel has 2 F&B outlets offering a wide selection of delicacies and flavours. Mezza 9, an all-day dining restaurant which serves various cuisines for buffets and ala-carte menu. Crumbles & Cream, a café offering pastries, coffee ice cream and other delicious desserts.