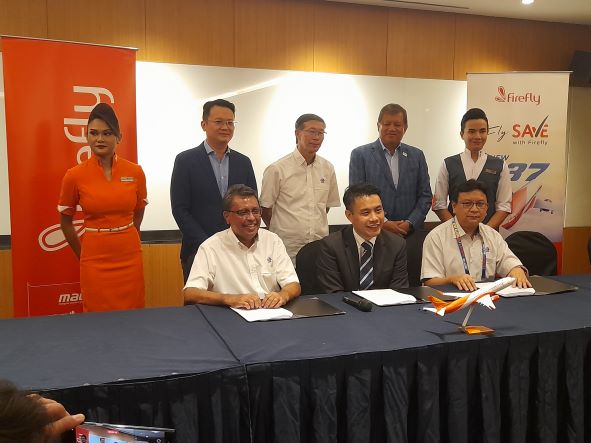 A tripartite collaboration to further enhance tourism between Penang and Sabah was sealed at the signing ceremony between Firefly and Malaysian Association of Tour and Travel Agents, Sabah & Penang Chapters.
The special offer at only RM700 per pax for three days and two nights for those travelling to Penang includes, airfare, accommodation and breakfast.
On hand to witness the signing ceremony was State Exco for Tourism and Creative Economy YB Yeoh Soon Hin, Sabah Assistant Tourism, Culture and Environment Minister Datuk Jonistan Bangkuai, Firefly chief executive officer Philip See, Matta national president Datuk Tan Kok Liang,
Signing on behalf of Matta Penang was its chairman Vergis Mathews and Lawrence Chim for the Matta Sabah chapter.
Lending support was Penang Global Tourism CEO Ooi Chok Yan and MAH Penang rep John Kim among others. 
"This collaboration will deliver mutual benefits to all of us. If we work together with other states and entice tourists to visit other destinations in Malaysia, we will see the tourists' expenditure and spending being retained within Malaysia.
"It is great to see that my efforts come into fruition today. Besides, I also had a few conversations with Datuk Joniston on my visit there to Kota Kinabalu," said Yeoh.
He also added that the combined strengths in the tourism industry will take the quality of tourism and many aspects of the industry to the next level.
Meanwhile, Jonistan added that despite political differences, they can still work together to benefit each other.
"This is a special partnership between Sabah and Penang with this out of the box collaboration. I thank Firefly for making this promotion and synergy possible. We can complement each other to promote both destinations," he said.
Meanwhile, See said that the collaboration will not only see Penangites traveling to Kota Kinablau but also foreign tourists. We will also expand our routes to places like Phuket and regional destinations soon.