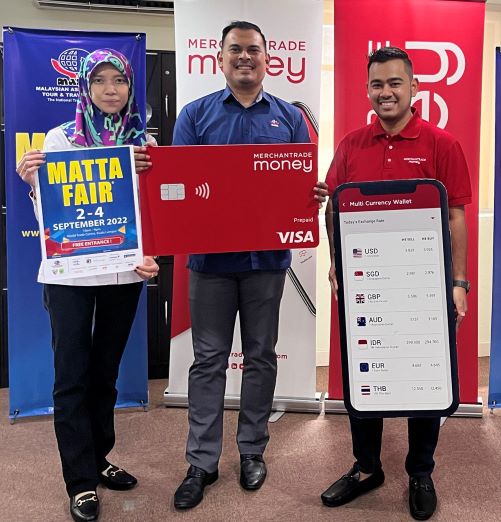 Just as the Malaysian Association of Tour and Travel Agents (MATTA) Fair Penang 2022 came to a close yesterday, it has been announced that the much anticipated event for Kuala Lumpur will be held from September 2-4, 2022 at the World Trade Centre (WTC).
With the opening of the international borders from April 1, 2022, they are confident that Malaysians as well as International tourists will very soon kick off their holiday mood and will travel.
This 51st edition of MATTA Fair is also proud to announce Merchantrade Asia Sdn Bhd as the Official Money Changer and it marks their 7th time in MATTA Fair since 2017.
This significant partnership with Merchantrade Asia has shown their strong belief in MATTA Fair in promoting a wide variety of services and products that have been widely used by tourists, especially their multi-currency payment solutions.
Merchantrade Money Card enables travellers the ease of conducting financial transactions digitally.
Travellers can buy, keep & sell up to 20 currencies in the app, perform online money transfers, card-to-card transfers, check card balance and top-up prepaid mobile airtime (domestic and international), buy micro insurance, change card settings for added security, and track their expenses (via e-statement) by using Merchantrade Money mobile app.
We have entered a brand-new era of tourism, which presents both new challenges and opportunities. Tourism players are all geared up to rebuild and revive the tourism industry to meet the demand of the consumers. MATTA Fair will be a good platform for the tourism industry alongside the government's initiative in fully opening borders to International tourists.
This MATTA Fair has received strong participation from many state tourism organisations, namely Kedah, Sarawak, Sabah, Terengganu, Pahang, Selangor, Perak, Melaka and Putrajaya. Besides Tourism Malaysia taking the biggest booths area with 36 booths, we also have International Tourism Organisations namely, Korea, Turkey, Taiwan, Japan, Philippines, Taipei, Tohoku and Tokyo.
MATTA trusts that with the collaboration and support from exhibitors, sponsors, and state and National Tourism Organisations will bring greater success to the Fair and will continue to contribute to the growth of domestic and inbound tourism in our country.
Admission is free for the fair and it is open from 10am-9pm for the three days, Friday to Sunday.
Visitors are encouraged to use public transport such as LRT and e-hailing services.