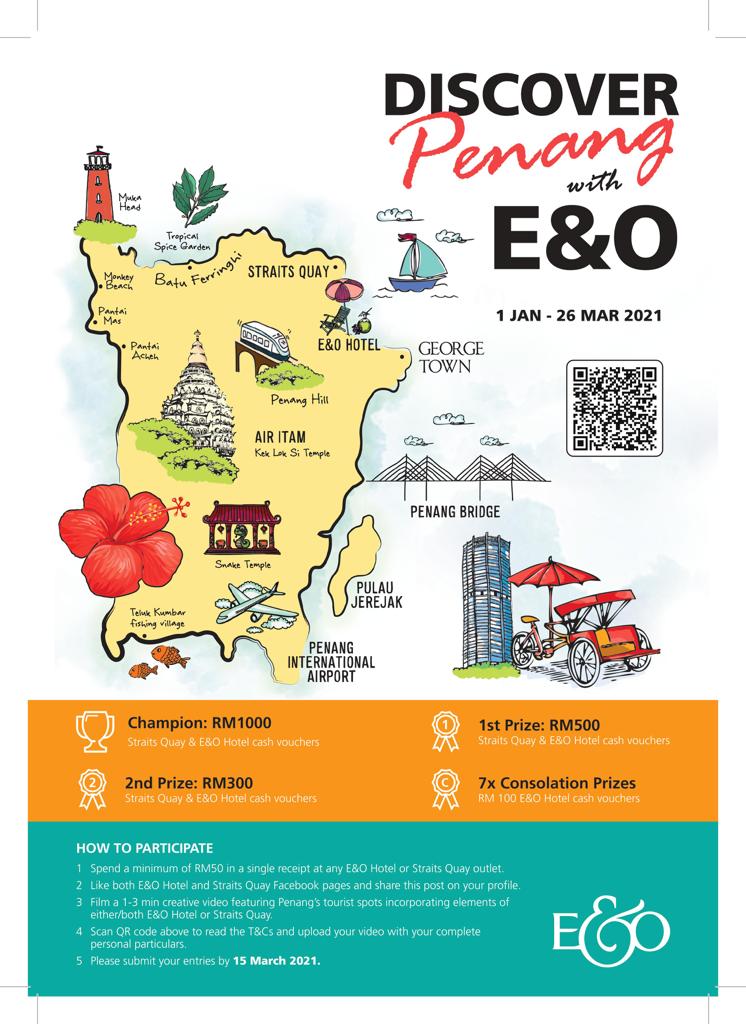 Here's a chance to have fun and win prizes – thanks to Eastern & Oriental Berhad.
Take a video of the under-the-radar destinations worth exploring in Penang if you think you have already seen all it has to offer.
Ten prizes, including the first prize that gives you an opportunity for a staycation at the grande dame of George Town – Eastern & Oriental Hotel – await those with the most creative video clips.
Themed "Discover Penang with E&O", the creative challenge organised by the Eastern & Oriental Group is a virtual event to promote the state through the public's artistic lens.
"Penang is a well-recognised tourist destination, but there may be hidden gems that might have gone unnoticed, even to Penangites like us.
"These may be big-picture scenes off the beaten track or zooming into details we might have missed even if we pass them every day.
"The entries could also be a tribute to the people of Penang, capturing customs and skills that make Penang so unique and special, that we wish to acknowledge, appreciate and share," explained Eastern & Oriental Berhad projects and property investments director Emily Teh.
Following the re-implementation of the Movement Control Order (MCO), the submission deadline has been extended to Mar 15, 2021.
Teh said the extension also depends on respecting prevailing movement restrictions, such as the current MCO.
"If needed, there may be further extensions as public health remains paramount to us," she added.
To be eligible for entry, participants are required to spend a minimum of RM50 in a single receipt from E&O Hotel or any Straits Quay outlet, like both E&O Hotel and Straits Quay Facebook page and share the creative challenge post.
Next, take a one to three-minute video in mp4 or avi format creatively introducing the "hidden gem" spots in Penang, submit your personal details, receipt and video at https://bit.ly/37HNHm1.
The top 10 participants will be notified via e-mail or phone on Mar 22 before 12pm and once notified, those shortlisted are required to upload their video to their personal Facebook account, tag @Eastern and Oriental Hotel and @Straits Quay with the hashtag #DiscoverPenangwithEO and get as many likes and share of their video.
The one with the highest number of likes and shares by Mar 26 at 12pm wins the contest.
The champion will walk away with RM1,000 E&O Hotel and Straits Quay cash vouchers while the second and third prize winners will take home RM500 and RM300 cash vouchers respectively. There will also be RM100 E&O Hotel cash vouchers each to the seven consolation winners.
For more details, check out the Facebook posts in E&O Hotel and Straits Quay or call 04-899 2268.