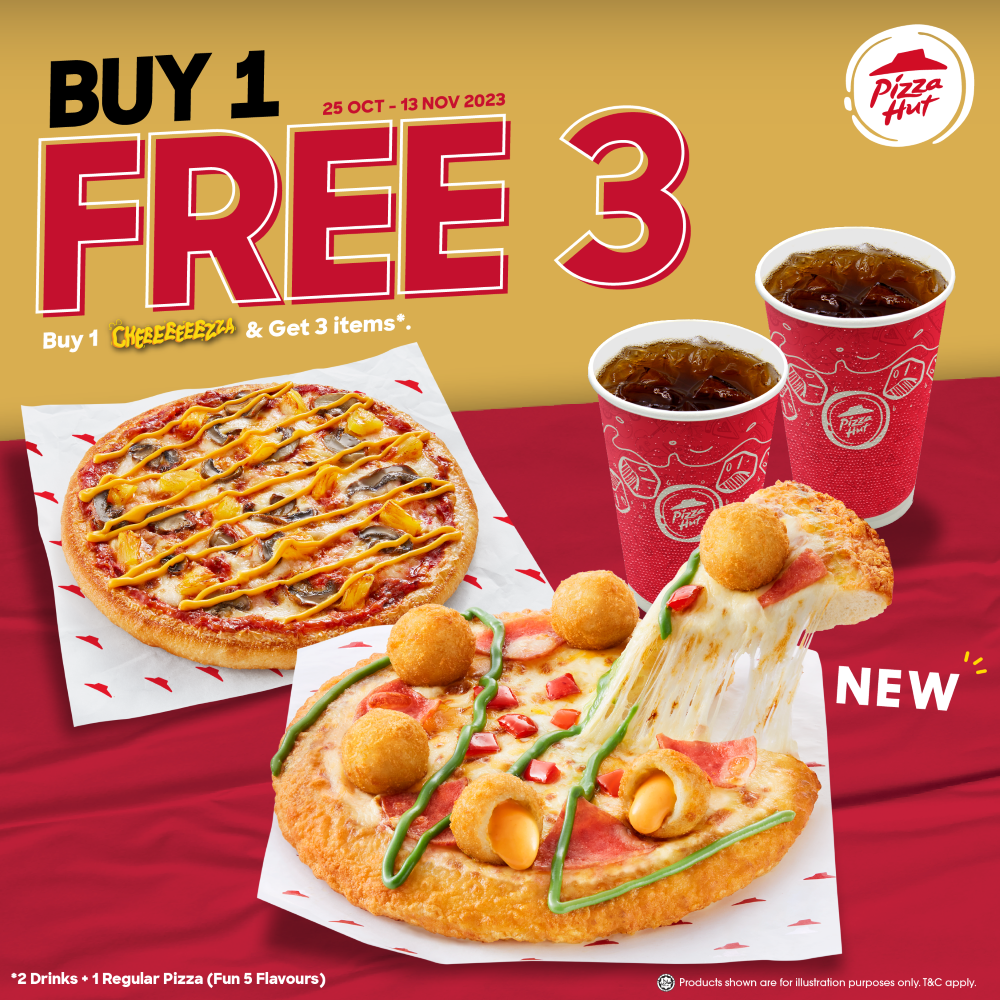 Pizza Hut Malaysia is gearing up for an extraordinary year-end as it proudly presents its latest innovation, CHEEEEEEEZZA – the ultimate cheese lover pizza. Launched on 16th October 2023, this exclusive limited-time offer (LTO) product is set to redefine year-end celebrations as an irresistible choice with its sensational fusion of flavours and cheesy goodness in every bite.
To commemorate this launch, for a limited time only, Pizza Hut is offering a special introductory promotion available from 25th October to 13th November 2023. During this period, customers can enjoy a Buy 1, FREE 3, where with every purchase of CHEEEEEEEZA pizza, customers are rewarded with another regular-size pizza from its selected Fun 5 range, along with 2 cups of soft drinks for free. This promotion is created especially as a special treat for early birds and Pizza Hut fans for their firm support.
Inspired by the universally beloved pizza flavour named Cheesy 7, and adored by Pizza Hut enthusiasts around the world, CHEEEEEEEZZA has been meticulously crafted exclusively for the Malaysian palate. This pizza perfectly encapsulates Malaysians' unwavering passion for cheese, featuring a medley of 7 popular Cheesy styles sourced from around the world. Recognising Malaysians' love for spiciness and bold flavours, we have added a delightful twist to this pizza – a dash of spicy and tangy jalapeno, infusing CHEEEEEEEZZA with an explosive zing that tantalises the taste buds of Malaysians.
CHEEEEEEEZZA brings together the best of both worlds by harmonising two contrasting taste experiences: the creamy richness of the cheese and the kick of spiciness. It's a harmonious fusion of two seemingly opposite taste profiles that results in a taste experience that is truly extraordinary. The ingredients that make this pizza a noteworthy meal are through the combination of the following:
Oozing Nacho Cheese Balls,
Spicy Jalapeno Cheese Sauce,
5 Cheese Blends:

Red Cheddar,
Edam,
Provolone,
Medium Fat Hard Cheese,
Monterrey Jack.

Topped with Protein – Chicken Slices
Served in regular-size pizza, cut into six delectable slices, customers can enjoy the CHEEEEEEEZZA's Ala Carte menu for RM41.90 or opt for the Combo sets starting from RM53.90.
Pizza Hut Malaysia Chief Marketing Officer Emily Chong said, "CHEEEEEEEZZA exemplifies our unwavering dedication to innovation and the absolute satisfaction of our cherished customers and pizza enthusiasts on an unparalleled journey of cheesiness. The seamless blend of rich, cheesy indulgence and tantalising spiciness, cherished by Malaysians, epitomises Pizza Hut's unwavering dedication to understanding and continually delighting their discerning taste buds. This steadfast commitment to meeting the ever-evolving flavour preferences of Malaysians has firmly solidified Pizza Hut's position as the No.1 brand choice for the last 43 years."
"We believe this extraordinary blend of flavours would serve as the focal point, delighting individuals of all ages during any year-end festivities," Emily concluded.
CHEEEEEEEZZA will be available for dining in and takeaway across all Pizza Hut stores nationwide until 31st December 2023. It is also available for convenient home delivery through the Pizza Hut App, the official website at www.pizzahut.com.my, or via the food aggregator platforms.