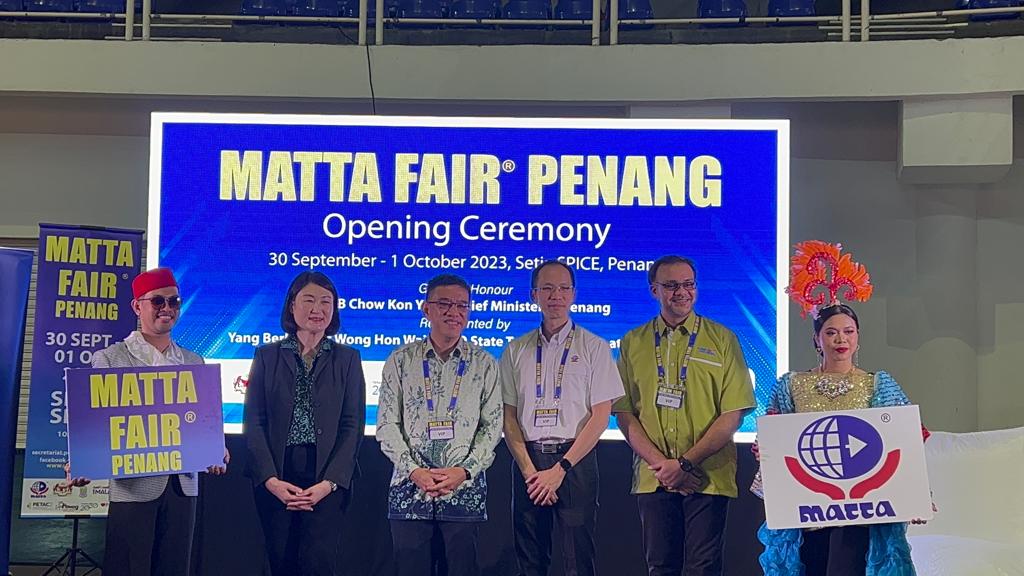 MATTA Fair Penang 2023 launch ceremony
By V. Sivaji
The recently concluded Malaysian Association of Tour and Travel Agents (MATTA) Fair Penang 2023 managed to achieve a sales turnover of RM33 million.
This impressive figure is much higher than the anticipated threshold of RM25 to RM30 million.
A record number of 263 booths were on offer for holiday makers to plan their travel packages and take up other special deals at the fair. It was a significant increase of 70% compared to the fair last year.
Among the popular holiday destinations were China, Korea, Japan, Saudi Arabia, Dubai, Vietnam along with other South East Asian regions followed by European locations.
The fair was supported by Penang State Government and duly officiated by the State Exco for Tourism and Creative Economy YB Wong Hon Wai.
It also drew the interest of local and foreign tourism and travel agencies to offer attractive holiday packages for those planning their next get-away.
Among the foreign participants are the Taiwan Tourism Bureau and the Korea Tourism Organization (KTO).
The Malaysia Aviation Group (MAG) were the official airline partners for MATTA Fair Penang 2023.
Local tourism representatives were Tourism Malaysia Northern Region, Sarawak Tourism Board, Perak Tourism, Sabah Tourism Board, Langkawi Development Authority (LADA), Tourism Pahang, Malacca Tourism Board among others.
MATTA Penang chapter chairman, Ms Carolyn Leong said that they were happy with the turnout of people and also satisfied with the response and turnover of the fair.
"As the country's borders are re-open and domestic destinations like Langkawi, Sarawak, Sabah, Perak, Perlis and Pahang pick up, they have also contributed to the sales turnover.
"We were glad to see the confidence of the people to travel again and this was reflected in the number of visitors to the fair," she added.
Attractive lucky draw prizes were offered by MAS, Firefly, Vietnam Airlines, Qantas, China Airlines, Thai Airways, Citilink and Xiamen Airlines. The value of these prizes were more than RM200,000.