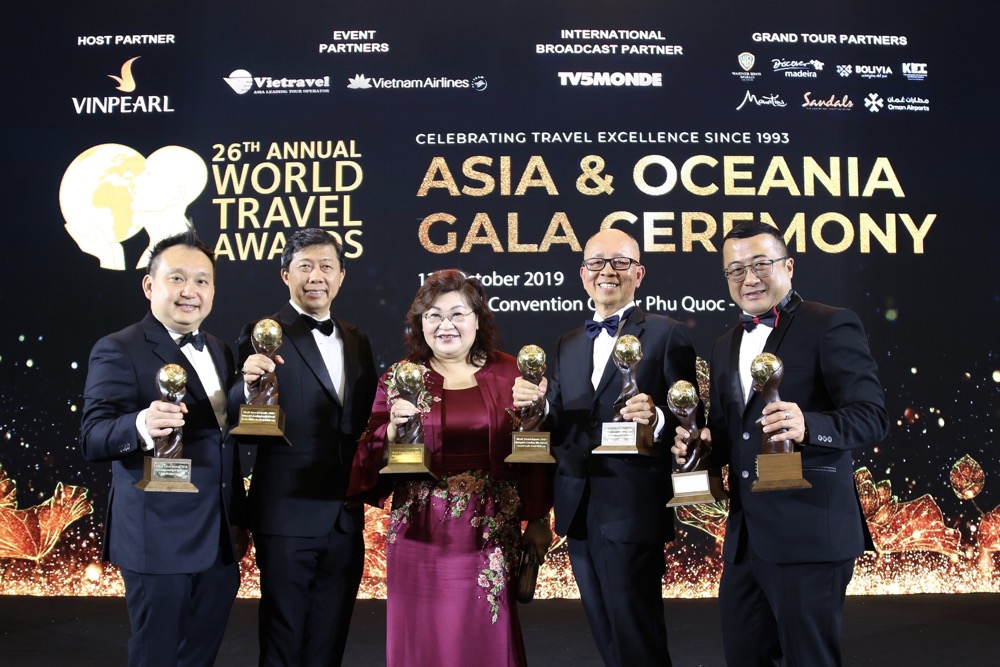 By V. Sivaji
The Lexis Hotel Group were among the big winners at the recently concluded World Travel Awards (WTA) 2019 held at the pristine Vietnamese island of Phu Quoc recently.
Being one of Malaysia's leading hospitality brands, they won with seven coveted titles at the prestigious gala ceremony.
The awards ceremony was highly contested for the Asia & Oceania category.
The Lexis Hotel Group clinched awards for three of its properties – Lexis Hibiscus Port Dickson, Grand Lexis Port Dickson and Lexis .
Among the wins were five titles for Lexis Hibiscus Port Dickson for Asia's Leading Family Villa Resort 2019, Asia's Leading Water Villa Resort 2019, Asia's Leading Wedding Venue 2019, Malaysia's Leading Family Resort 2019: and Malaysia's Leading Resort 2019.
Meanwhile their Grand Lexis Port Dickson won the Malaysia's Leading Villa Resort 2019 while Lexis Suites Penang won the Malaysia's Leading All Suite Hotel 2019 award.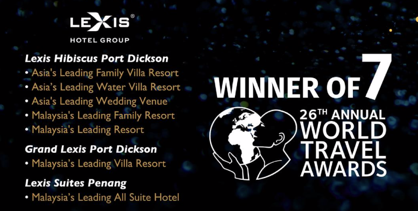 Commenting on the happy and auspicious occasion for the group, the President of Lexis Hotel Group, Mandy Chew Siok Cheng said that they are delighted to receive seven accolades at this year's WTA Asia & Oceania Gala Ceremony.
"It is our first time competing in the esteemed WTA and we are pleased by the support from travellers and industry professionals.
"The awards reflect Lexis Hotel Group's commitment to deliver a unique and memorable hospitality experience for international travellers.
"We will continue to provide superior services and exceptional guests' experience in order to remain the preferred choice for our valued guests in a highly competitive marketplace," she added.
Celebrating its 26th anniversary this year, WTA is renowned as the most prestigious and comprehensive in the global industry.
Each year, WTA covers the globe with its Grand Tour – a series of regional gala ceremonies to recognise excellence within each continent, culminating in a Grand Final at the end of the year.
WTA gala ceremonies are regarded as milestone events in the industry calendar, attended by the industry's key decision makers and figure heads, as well as key trade and consumer media.
Lexis Hotel Group provides discerning leisure and business guests with practical and luxurious accommodations across various properties in Malaysia at their four four properties, namely Lexis, Grand Lexis and Lexis Hibiscus, all located in Port Dickson, as well as Lexis Suites Penang.