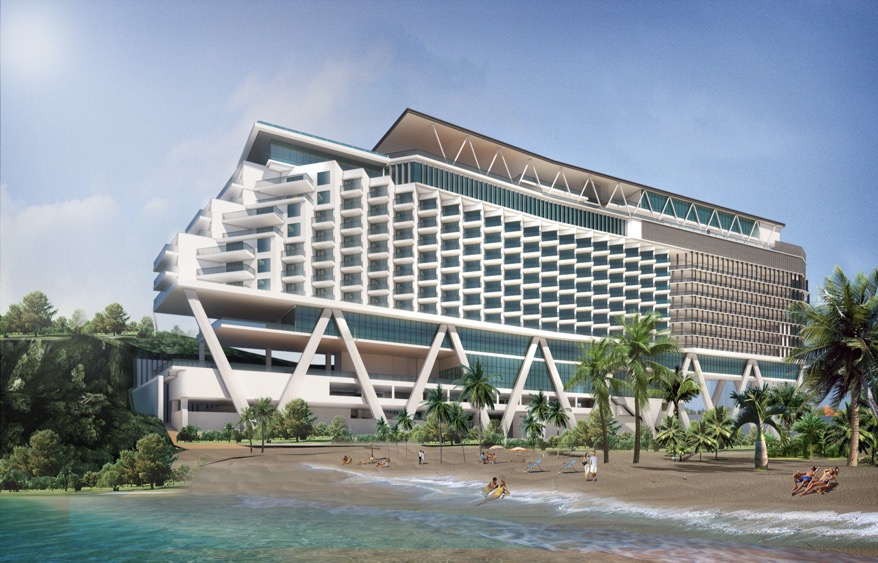 By V. Sivaji
The Cenang Beach stretch in Langkawi will see yet another international standard resort slotted to open in 2023.
The Nautilus Resort, Curio Collection by Hilton brand is set to be the first property under the Curio Collection by Hilton brand in Malaysia with a 250-room inventory hotel on the island.
The resort will join the hospitality company's established portfolio of hotels in Malaysia where it currently operates 11 properties across three brands.
.
This is following the signing of a 5-year management agreement with Inspirasi Langkawi Sdn. Bhd to build The Nautilus Resort, Curio Collection by Hilton.
"Since its launch in 2014, Curio Collection by Hilton has piqued interest in the international development community for its diverse portfolio of handpicked hotels.
"From urban landmarks to beautiful beach resorts, each Curio Collection property is a one-of-a-kind discovery and an integral part of its destination.
"With Langkawi boasting South East Asia's first UNESCO Geopark and its reputation as the ultimate island escape, we are confident The Nautilus Resort will be a great addition to this popular leisure destination as well as to our collection of unique hotels and resorts." said Jenna Hackett, global head, Curio Collection by Hilton.
Meanwhile, Guy Phillips, senior vice president, development, Asia & Australasia, Hilton added that they are always on the look-out for the right opportunity to expand our footprint across the region with the right partners.
"The island of Langkawi needs no introduction as it consistently ranks amongst the most popular resort destinations in South East Asia and we are delighted to have the opportunity to work with Inspirasi Langkawi to bring to life a brand new, unique Curio Collection property in the heart of Cenang Beach.
"We are confident the resort will be top of mind for international and domestic travelers to Langkawi when it opens in 2023," said Phillips.
Visitors to The Nautilus Resort can enjoy a short commute, whether they are travelling by air or sea as the resort is located just nine kilometres from Langkawi International Airport and five kilometres from the island's Star Cruises Jetty.
The resort will boast stunning, unobstructed views of the Straits of Malacca, with its prime location in the center of famous beach town Cenang Beach, south of the island and in close proximity to a number of attractions, bars and restaurants.
Guests will enjoy direct access to the sea, complete with clear waters and a white sandy beach.
Upon opening, The Nautilus Resort will feature three food and beverage outlets, including an all-day dining restaurant, a speciality restaurant and a rooftop bar.
Young travelers can spend their days in the kids' club, while the adults relax in the pool or work out in the fitness center. The property will also offer an events space spanning approximately 680 square meters and a ballroom of approximately 350 square meters.
"Malaysia as a market holds huge opportunities for us, with 30 million international visitor arrivals anticipated by 2020. Aligned with this projection, we are seeing increasing interest by both international domestic visitors in secondary and tertiary locations within the market and it is truly exciting for us to be bringing our international hospitality standards into a renowned island getaway such as Langkawi.
"The Nautilus Resort will join our South East Asia portfolio as the second Curio Collection property in the region and we look forward to delivering unique and authentic experiences to our guests and customers when they dine and stay with us," said Jamie Mead, regional general manager, Malaysia, Philippines and Vietnam, Hilton.