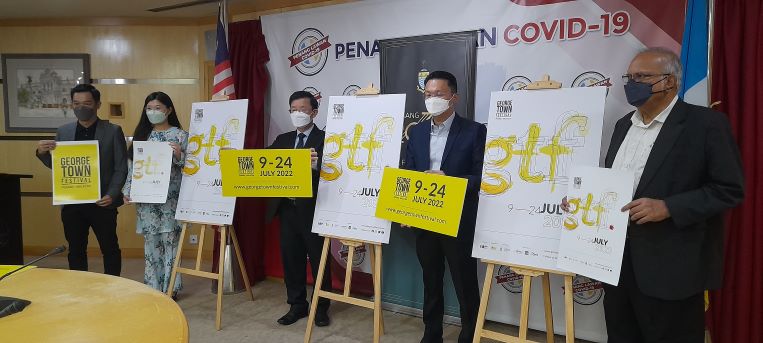 By V. Sivaji
The George Town Festival (GTF) 2022 is back.
The popular event will be held from July 9 to 24, 2022 across several venues in Georgetown and surrounding locations.
In announcing the premier show, Penang Chief Minister YAB Chow Kon Yeow was joined by Penang Deputy Chief Minister 11, Prof P. Ramasamy and State Exco for Tourism and Creative Economy, YB Yeoh Soon Hin in Komtar earlier today.
Also present was GTF director Jack Wong and his team.
"Penang's art scene has experienced remarkable growth and advancement, garnering numerous international accolades.
"CNN Travel dubbed GTF as "Best of Penang rolled up in one big festival" while The New York Times reviewed it as a "festival growing into a major Asian arts event.
"I am happy to note the international recognition for the GTF. Much of the GTF's success stems from its sincere commitment to nurturing homegrown talents, preserving local culture and heritage and providing an international platform for local artists.
"Among the venues are The Habitat Penang Hill and Cheong Fatt Tze Mansion," said Chow.
Seventy per cent of the programmes are free for the members of the public while the balance 30 per cent are subject to ticketing.
Meanwhile, Yeoh added that the GTF adopted an online format in 2020 and a hybrid format in 2021.
"To my delight, the festival is finally back in a scaled back but equally exhilarating physical format. However, the festival returns without big-scale outdoor events. Instead small and medium events on a reduced scale.
"Most of the festival's programmes will showcase Penang's diverse culture and heritage," added Yeoh.
For more details look up georgetownfestival.com