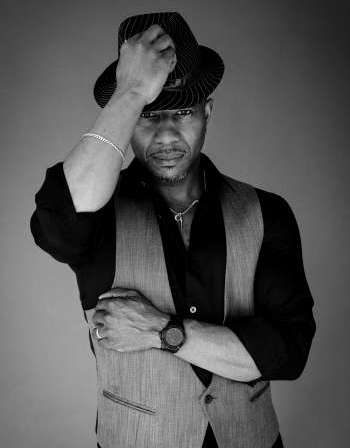 By V. Sivaji
Music has always played a big part in British DJ, Carl Hinds's life while growing up in South London.
Coming from a Jamaican family, his father used to buy lots of vinyl records from the record shops in Brixton in London and he used to play them at every opportunity.
"I remember creating my own show and playing them on the only turntable that we owned'
"As I got older, I started to build my own record collection (I now have several thousand that I still play to this day)  and  DJ with my friends at house and student parties. 
"Since then, I really got hooked once I started going to nightclubs and watching how the professional DJ's performed'  
Penang Hyperlocal caught up with the UK DJ at a private function recently to  explore more details of him coming over to Malaysia.
He has now taken up the MM2H status in Malaysia and loves every minute being here.
"Actually, my wife and I came to Asia in 2010, started and built a successful Innovation company in Singapore. 
"We lived there for 18 months before moving over the border to Nusajaya Johor, which was perfect for close proximity to our business but as our business become more global the need to be near Singapore was significantly reduced.
"Moving to Penang, a place we have visited on numerous occasions was the perfect scenario for us," says Carl in delight.
Getting back back to his DJ career, he adds that he had never worked in a nightclub as a resident DJ back in UK, the opportunities never really materialised.
"I have performed mostly in bars or for special events at different types of venues, I've done hundreds of them over the years, for example I was booked to DJ before and after a football match at Crystal Palace FC in London. 
"There were about 25,000 people in attendance and its easily the biggest audience I have ever played for," he recalled.
Obviously, having performed in the UK over the years and moving to Asia, he has now played in Singapore ,Malaysia and Cambodia. 
"Strangely, I have a huge following from places like Vietnam, Philippines and Thailand where I have not even performed. Hopefully I will get some opportunities from those countries in 2020," adds Carl.
He also adds that he is really nostalgic guy and his musical sets reflect that. 
"A lot of DJ's are very precious about the genres they are associated with but I have always been open genre. 
"At one of my nights you might hear Earth Wind and Fire, Cameo or Kool and the Gang and at  the same set I will throw in Stray Cat's, The Jam or Spandau Ballet. 
"To maximise that retro feel, I always bring along my turntables and  DJ with Vinyl records, audiences love it,  It helps to create the right atmosphere. DJ's who do retro nights with digital equipment are completely missing the point," Carl declared.
As for his new home now in Penang, Carl adds that Penang has everything.
"You can pretty much get everything you need here. You have Georgetown ,a great place to show visitors but there are other places off the beaten track worth exploring. 
"We like the area we live in, its a safe environment, its on the beach and its very quiet and Its quite easy to get around the island.
But the best part is the food as there are so many quality restaurants and eateries in Penang and so many new ones have opened up even in the short time we have lived here.
"As much as we love eating out, we tend to eat at home most days of the week and save the new restaurants for special occasions. 
Although they did not know anyone when they arrived in Penang just a few months ago, the friends they have made (both local and western) are charming, friendly, accommodating and helpful. 
Presently, he is getting a lot of enquiries for retro nights like the corporate events, company functions, annual dinners, gala's, fashion shows, specialised private events.
"I am also co-founder of a Vinyl only experience in Singapore called "GIMME SHELTER" which happens once a month.
"In addition to being a DJ, I am also an accomplished Emcee and I'm looking for more opportunities in this area  in the coming months.  I am really excited about the future. 
"I am starting a new podcast  which will be broadcast in 2020, it will be a combination of chat and music and talking to important figures in the music world, should be great fun," adds Carl.
He is also looking to curate a festival in Penang starting next year, It is in the planning stage and he is currently working on some ideas with local creatives.
He hopes that 2020 will be a great year as he has so much plans in store and to share with retro lovers and for future clients.