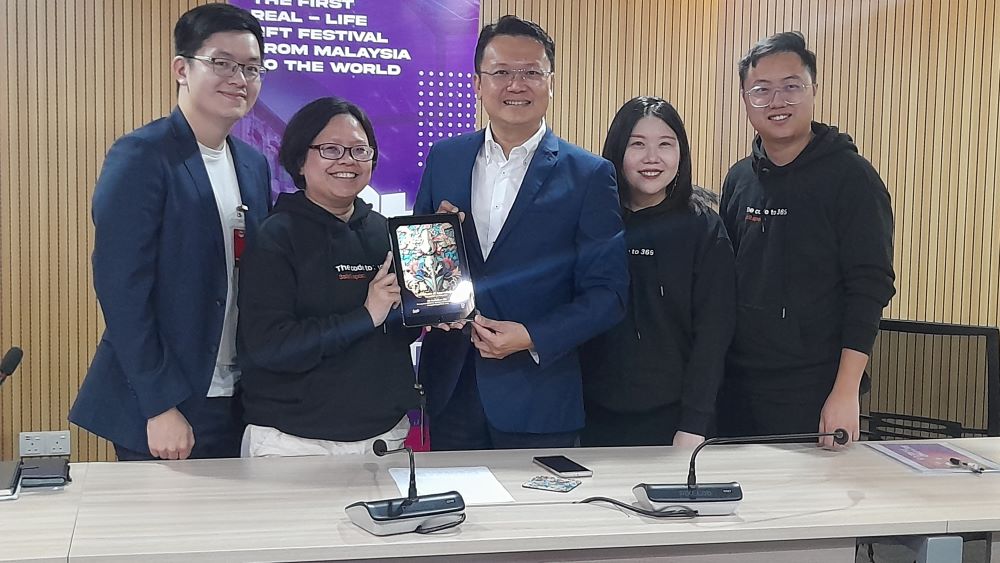 YB Yeoh with GenFest organisers
Penang becomes the first state to host the "genFest" party to embrace the latest technological development in the market.
Commonly known as NFT or non-fungible token, it is meant to be something which is unique or cannot be replaced.
In line with this development, genFest will collaborate with the Penang state government to hold the fest on June 30th and July 1st at the main venues, Digital Penang and Think City.
Present to announce the event was State Exco for Tourism and Creative Economy Yb Yeoh Soon Hin along with organisers. Among them were Beh Kim Chin, Ms Beryn, Kelson Toh and Kim Zhao Wei.
The fest aims to educate, entertain, engage and excite participants.
GenFest aims to collaborate closely with Digital Penang to realize the digitalization of tangible and intangible cultural assets of Penang with the intention of digitizing the assets has tremendous future value on preservation, conservation and authentication.
By digitizing, big data can be collected from these digitized tokens to be analyzed for future state level strategic planning.
NFTs also enable digital/non-digital creators to have the power to benefit from the transactions of their work, specifically from perpetual royalty. Besides being able to prove its authenticity, the creators are able to build a fan base based on this technology which will largely help their work distribution and value appreciation.
Linking up NFT with cultural products has another mission whereby they want to champion United Nations Sustainable Development Goals whereby we want to nurture and build a global citizen community by starting from Georgetown, one of the UNESCO heritage cities.
It will also enable the younger generation to learn from preserved cultural products like artifacts, and even support it by owning a piece of it (which is enabled by NFT technology). 
Official site : genfest.xyz
Ticketing site: https://tix.wtf