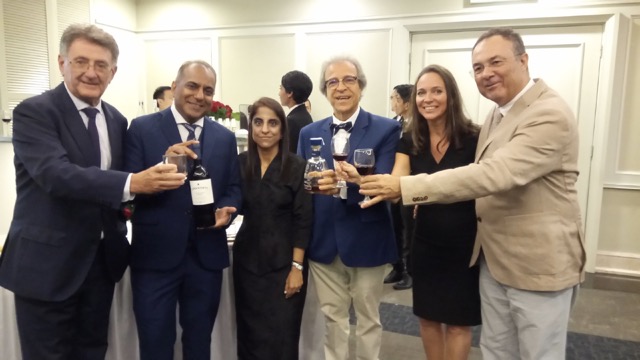 By V. Sivaji
Wine lovers can now savour the fine wine and rum from Canary Islands (Spain) for the first time in Malaysia and possibly in Asia as a couple of entrepreneurs have managed to import the premium products to Penang.
Dr Vicente Rodriguez and Jai Bakhtani also known as G2 among friends worked on this project for the past two years following their chance meeting at the E&O Hotel.
They set up Canary (Malaysia) Business Consultancy Sdn Bhd to promote the products including aloe vera products.
Also present at the tasting session held at the E&O Hotel was Yvonne Hernandez, Ricardo Borges and Rafael Molina from the Canary Islands.
"Most of the wine produced on the Canary Islands are normally consumed locally and not much is available for export. This is not surprising as drinking wine is part of the culture of the Spanish people.
"We are excited to bring these products here to Penang as we also love this island and its people and culture here," said Rodriguez.
Among the brands to be promoted here are Vina Norte Traditional, Vina Norte Carbonic Maceration (Red wine), Tagara Fruity (white wine), rums like Carta Blanca, Carta Oro Arehucas, Ron Anejo Seleccion Familiar 18 Anos and Ron Miel Guanche.
Among the savoury chocolate wafer brands available include Ambrosias Tirma range namely Con leche, Almendras enteras, Sabor Fresa, Sabor Naranja, Choco Crem galleta among others.
For more details on these products contact AK at 012-489-2626.