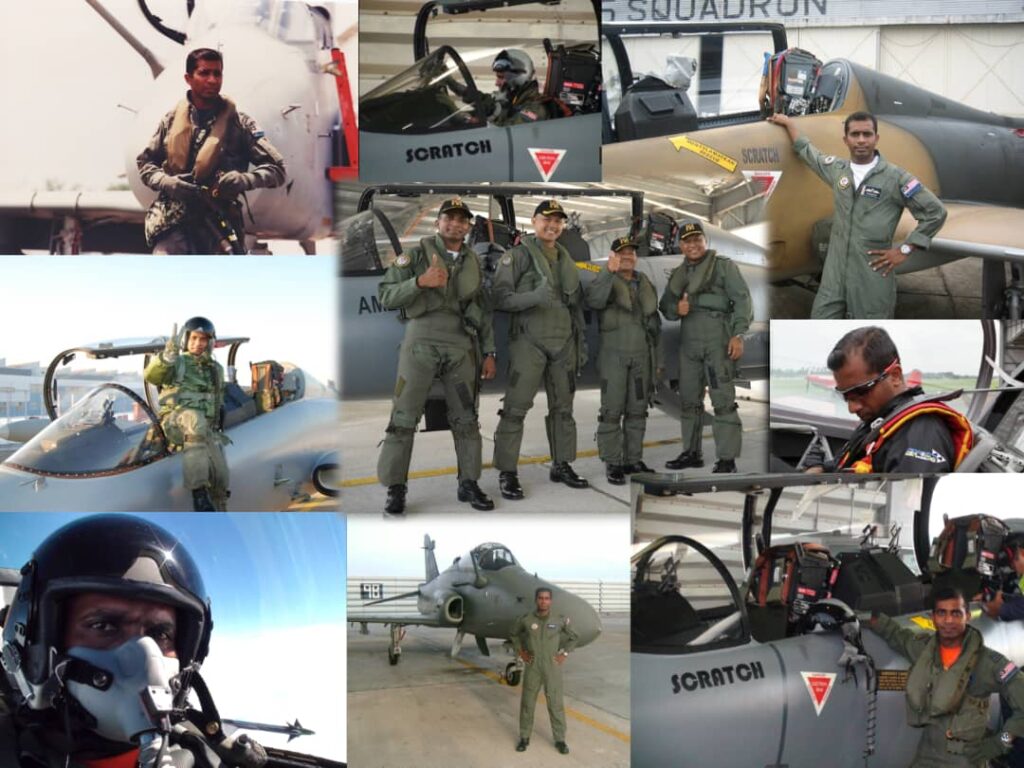 By V. Sivaji
In the early days while in school, Lt Colonel John Sham or "Scratch" already had a keen interest in music and being a deejay.
This was because he was influenced by his mom who used to be a singer with one of the leading bands during the 60's in Penang called "The Junior Jesters."
"My mom retired from singing after she got married but my uncles still performed in the local music scene and used to invite me to sing along with them as a kid.
"The music atmosphere created inspired me but I could not really play any musical instruments at that time to perform on my own.
"So, instead I learned how to spin records from an old record player at home.
"From there, I took the opportunity to volunteer to sing and DJ at every school function. My first paid gig was when I gathered enough courage at the age of 16 to perform at the Lumut Country Club, without my parents knowledge," said John when met by Penang Hyperlocal.
Moving forward, while awaiting for his SPM, he took up a deejay posting at a company called NightBirds and received my first training from a DJ called 'Father Moses'.
He used to be the relief deejay at various clubs and also shopping malls. With that experience, he decided to take part in the 3rd Malaysian Open DJ Competition at Ceasars Club.
Although he did not win any title as he was too amateur but he met three people that changed his life. They were DJ Joe Siva, DJ Ralph and DJ Harry who taught him the finer points in the profession.
John later joined the Palm Groove Disco at the then Royal Casuarina Hotel in Ipoh as a deejay where he joined another DJ, James Kennedy at the popular club.
He also fine-tuned his vinyl scratching skills while there. The club was managed by Juliana's of London.
In, 1992, he joined the Disc Jockey of the Year Competition organised in Renaissance Club KL and emerged second runner-up.
This achievement opened up more opportunities to work in many clubs in KL, Ipoh and Malacca,
But his burning desire was to jon the Royal Malaysian Air Force (RMAF), so in 1991, he applied to join the RMAF.
He passed the interview flying colours and officially enrolled in 1993.
From here, there was no looking back for john as he chartered his career as a pilot in the RMAF.
He met and worked with many subordinates, peers and superiors.
Among his memorable moments was the opportunity to fly with the legendary Nigel Lamb, one of the world's best aerobatic pilot at LIMA 1997 with the Benson & Hedges Aerobatic Team.
He was also the emcee during the LIMA show since 1995 and the Brunei Air Show & Singapore Air Show.
He also flew at LIMA, National Day Flypast and other airshows. along with being the pioneer team for RMAF fighter aircraft at Milan, Italy.
He was also selected to train to be a qualified aerobatic and air display pilot by the "Blades", United Kingdom to lead the Malaysian Aerobatic Team, Krisakti.
Other highlights include selected for Masters in Strategic and Military Studies in Australian National University, being selected to present safety related talks at the US Air Force platforms in Hawaii, leading the Aircraft Crash investigation Team as Board of Inquiry President during the Hawk crash in 2017 and also real- time live operational experiences for every fighter pilot which is not to be disclosed.
Todate he has flown the front-line fighter aircraft in the RMAF inventory ranging from the legendary MB-339A, Hawk 108/208, Advanced Fighter Trainer MB-339CM, F/A-18D Hornet to the sophisticated Su30MKM.
His last posting was the Central Fighter Pilot Instructor for Instructors and Examiner Head of RMAF Flight Safety Division.
After 25 years in the RMAF he retired last year (2019) and plan to join the commercial airlines industry.
He is currently sitting for the Air Transport Pilot Licence (ATPL), meanwhile he has also established his own event company called "Skyline Productions" and founded a band called "Skyline".
Now his band performs in venues like Sutraa Kitchen+ Bar in Changkat, Rock Bottom Bangsar and S.O.L in PJ besides events and wedding gigs.
He recently performed again at the former Royal Casuarina Hotel which is now the Impiana Hotel at the "Rretro Night" organised by a former operator of the Palm Groove Disco, Sivaji and deejay / emcee, KT Pillai in celebration of the retro era.
Currently he is lending support for the Musicians for Musicians" fund raising show to help local musicians welfare and their well-being where he is the organising secretary with the organising committee.
"I finally found a reason for my contribution to the Malaysian Music Industry and society and consider it an honour to be involved with Musicians for Musicians.
"The concert is the very first concert of its kind that will be a 10-hour non stop concert showcasing 30 Bands, Duos and Soloist featuring 160 musicians on March 15 from 2pm at the Mines International Exhibition & Convention Centre, Seri Kembangan," added John.