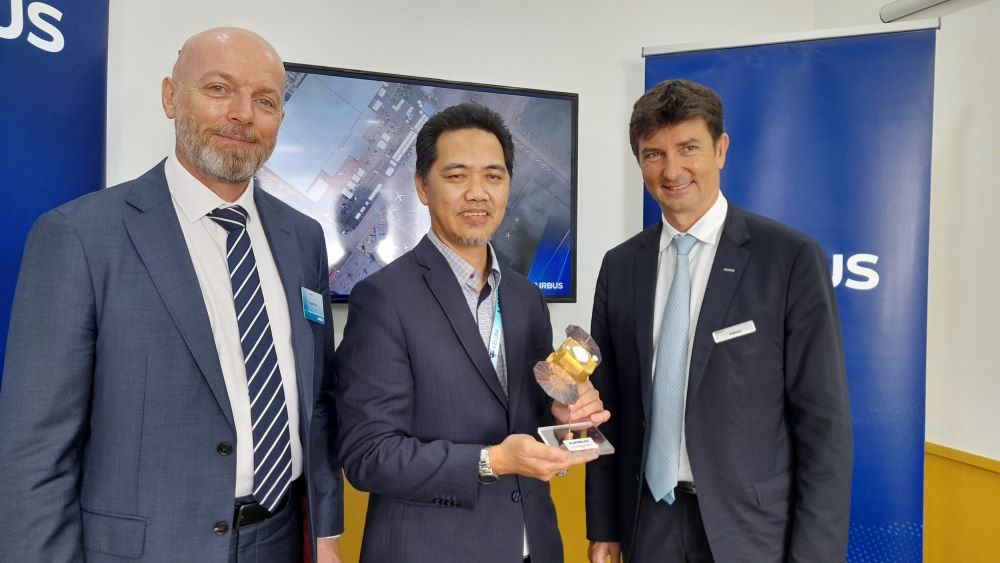 From left – Pavie, Haji Azlikamil and Pelissier
Airbus sees strong potential in Malaysia's Space sector and is ready to further contribute to the country's sovereign Space development journey.
Their latest innovation and technology via the Pleiades Neo satellite allows them to bring clear images with much clarity and resolution which will help the various government departments for telecommunication, monitoring, security and other vital functions.
The satellite includes a 75 per cent new innovation with clear and quality resolution.
Speaking at the Langkawi International Maritime and Aerospace Exhibition (LIMA), Johan Pelissier, Head of Asia-Pacific for Airbus Defence and Space, highlighted the importance of strengthening national capabilities and capacity in areas that increase resilience of critical infrastructure, and contribute to economic growth.
"Airbus has been helping nations and corporations address Space aspirations for over five decades, and we are ready to deepen our partnership in Malaysia to fulfil its National Space Policy (NSP) 2030."
Airbus has been supporting the country's Space industry since 1998, starting with Space imagery. In 2014, the company delivered MEASAT-3b, the largest satellite ordered by Malaysia's communication sector. Five years later, Airbus was selected to build MEASAT-3d, a new multi-mission telecommunications satellite to replace capacity and augment MEASAT's core business in Malaysia, Asia, Middle East and Africa. The satellite was successfully launched in June 2022.
"Airbus is extremely proud to be involved in the development and production of these two critical telecommunications satellites for Malaysia."
"Beyond telecommunication satellites, Airbus partnered with the Malaysian Space Agency (MYSA) for over 25 years, to develop capabilities for satellite imagery reception. MYSA today receives images from our constellation of satellites, both optical and radar, to help Malaysia monitor day and night, and optimise the country's natural resources."
Airbus and MYSA have been close Space collaborators in the areas of satellite imagery, systems and services. MYSA has over the years increased its Space capacity through Airbus' constellation of imaging satellites, to generate data in support of its national development and sustainability initiatives.
Today, MYSA is a strong Direct Receiving Station network partner in the region.
The national space agency is also a recipient of the Industrial Collaboration Programme on Space systems including the TerraSAR-X terminal and Pixel Factory.
Malaysia is currently the only Southeast Asia country with the infrastructure and capacity to receive SPOT, Pléiades and TerraSAR-X telemetry.
Speaking on Airbus' collaboration with MYSA in the area of Earth observation satellites, the company's Asia-Pacific Head of Sales for Intelligence, Hugues Pavie, highlighted the latest constellation of satellites entirely funded, manufactured, owned and operated by Airbus — Pléiades Neo, which MYSA has virtual access to the imagery today.
"Pléiades Neo can be used for a wide range of applications across industries such as maritime, energy, agriculture, forestry, civil engineering and mobility — where high quality data and services will stimulate innovation and the development of new applications by local actors within Malaysia," said Pavie.
Joining the briefing, Gs. Haji Azlikamil Napiah, Director General of MYSA shared about NSP 2030 and its action plan, Malaysia Space Exploration (MSE) 2030 that was launched at LIMA by The Most Honourable Prime Minister of Malaysia. Airbus' services to MYSA are in line with thrust two of NSP 2030: Focusing on Technology, Infrastructure and Space Applications. To date, MYSA has internally developed more than 50 space-based applications using Airbus remote sensing satellite imagery.
"MYSA values Airbus as an integral partner who has journeyed with us for over two decades. We appreciate the high-quality products, advanced technology and excellent services that support our decision-making process. We look forward to extending a potential partnership with Airbus in line with our National Space Policy 2030 implementation agenda," said Azlikamil.
Among the key potential of the satellite technology are in the Oil & Gas industry, Mining, Agriculture, Forestry, Civil engineering and also for ground water detection in view of climate change.
"There is a lot of potential for Malaysia's sovereign Space development enabled by a strong local Space ecosystem. This is where Airbus has the ability and is ready to support Malaysia to build this industry. We look forward to strengthening these partnerships as we move ahead in this journey together," said Pelissier.
Other countries in the region working with Airbus on the satellite technology are Thailand, Vietnam, Indonesia and Singapore.
Source – Airbus