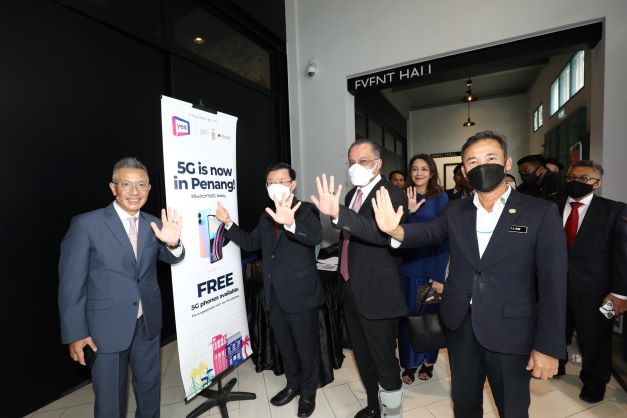 YTL Communications' Yes unveiled its Commercial 5G service in Penang earlier today at Think City @ Bangunan UAB, CD² George Town.
Representing the state government was Penang Chief Minister YAB Chow Kon Yeow along with State Exco for Housing, Local Government, Town and Country Planning YB Jagdeep Singh Deo.
Also present was YTL Communications chief executive officer, Wing K. Lee and his team.
Yes launched Malaysia's first 5G Wireless Fibre service stemming from Yes' commitment to provide affordable 5G services and solutions for every Malaysian.
As Malaysia transitions into a digital world where high quality connectivity is a prerequisite to enabling greater productivity and efficiency, Yes is excited to enable consumers and industries alike to be part of this digital transformation with its 5G solutions.
"The Yes 5G service is fully in-line with the state's Penang2030 vision of 'A Family-Focused Green and Smart State that Inspires the Nation'. The extension of Yes 5G service into Penang will not only encourage new investments and boost the State's economy – Penangites will also be amongst the first in the country to experience world class 5G connectivity.
"This initiative by YTL Communications' Yes to elevate Penang brings us closer to our Penang2030 vision as world class mobile Internet is key to advancing our digital economy and make Penang an even more attractive location for Foreign Direct Investment (FDI). I am looking forward to seeing our Rakyat and industries adapt and transition to 5G. It is important for us to have winning partnerships like this to support our state"s progress towards becoming a green and smart state." said Chow.
Yes also announced the launch of its Infinite Gateway – Malaysia's first 5G Wireless Fibre service.
Requiring no installation, the fibre class product is movable from room to room and can connect up to 32 devices using its built-in Wi-Fi 6 support.
"As a catalyst of the telco industry, we have been at the forefront of technology evolution for the benefit of the nation. We are proud to be extending our 5G service to Penang today. And we are excited to play an active role in supporting the state's Penang2030 vision. Local consumers, businesses and innovators will benefit greatly from our 5G services, including Malaysia's first wireless fibre service. We are on the right track building towards our mission of "5G for All".
"Our Yes Infinite Gateway provides an elegant solution for many Malaysians that are not able to get access to conventional fibre service or are unsatisfied with their current home or work broadband connectivity," said Wing adding that Yes sees this as an opportunity to use the rapidly growing 5G service footprint to close the digital divide, so everyone can live, work, learn and play efficiently.
In the meantime, as the first commercial 5G service provider in Malaysia, Yes has been named as the Official 5G Partner of the World Congress on Innovation and Technology (WCIT) 2022, commonly referred to as the 'Olympics of the World's Information Technology Industry'. 
The Congress held at the Setia SPICE Convention Centre in Penang from 13 to 15 September expects to welcome 4,000 IT visionaries to converse and drive innovation in the ever-changing digital landscape. Yes will be hosting an exciting 5G showcase, encompassing innovations such as extended reality, AI, robotics and Yes 5G products including the newest Infinite Gateway, for attendees and the public to experience.