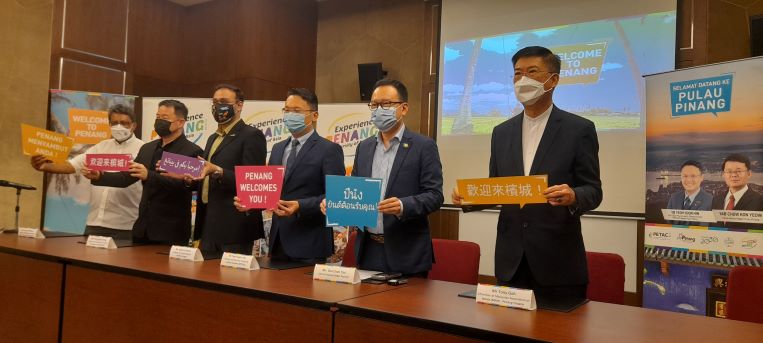 Putting aside politics, the Penang State Government will work together with other tourist destinations like Langkawi, Malacca and Sabah to complement each other.
Speaking at the launch of the "Welcome to Penang" campaign, State Exco for Tourism and Creative Economy YB Yeoh Soon Hin said that the move is the new way forward for the tourism industry and also benefits the country overall.
In line with this initiative, he had recently visited Sabah and will also visit Langkawi on the invitation of the Langkawi Development Authority (LADA) soon.
Present at the launching ceremony was Penang Global Tourism chief executive officer, Ooi Chok Yan, Tourism Malaysia Northern Region Director, Shahrul Aman, Malaysian Association of Hotels Penang chapter chairman, Tony Goh, MAH National vice president,  Khoo Boo Lim, Malaysia Tour and Travel Agents Penang chapter chairman, Vergis Mathew and Association of Tourism Attractions (ATAP) chairman Ch'ng Huck Theng among others.
"With the opening of international borders, Malaysia is set to welcome more and more visitors and we in Penang are equally excited to welcome travellers to set foot in the Pearl of the Orient again.
"We will be re-embarking the global advertising campaigns by leveraging "Welcome to Penang " branding in order to boost inbound tourism while domestic tourism continues to drive the recovery.
"To this regard, UNESCO recently recognised Penang Hill and its surrounding areas as a Biosphere Reserve which has 130 million-year-old virgin rainforest.
"We also want to promote a balanced tourism for the state with the various attractions on the island and mainland. Among them are Balik Pulau, Teluk Bahang, Seberang Perai, Bukit Mertajam related to agritourism and eco-tourism", added Yeoh.
He also highlighted the recently launched "Muslim Travel Guide" booklet to help Middle East tourists to fulfill the needs of travellers for food and lifestyle.
Earlier, Ooi also delivered a presentation to give an insight of the upcoming promotion materials on the traditional and online channels for the benefit of guests present.
He also added that already, the Penang International Airport (PIA) is already seeing direct flights from Singapore, Indonesia, Thailand and Vietnam.