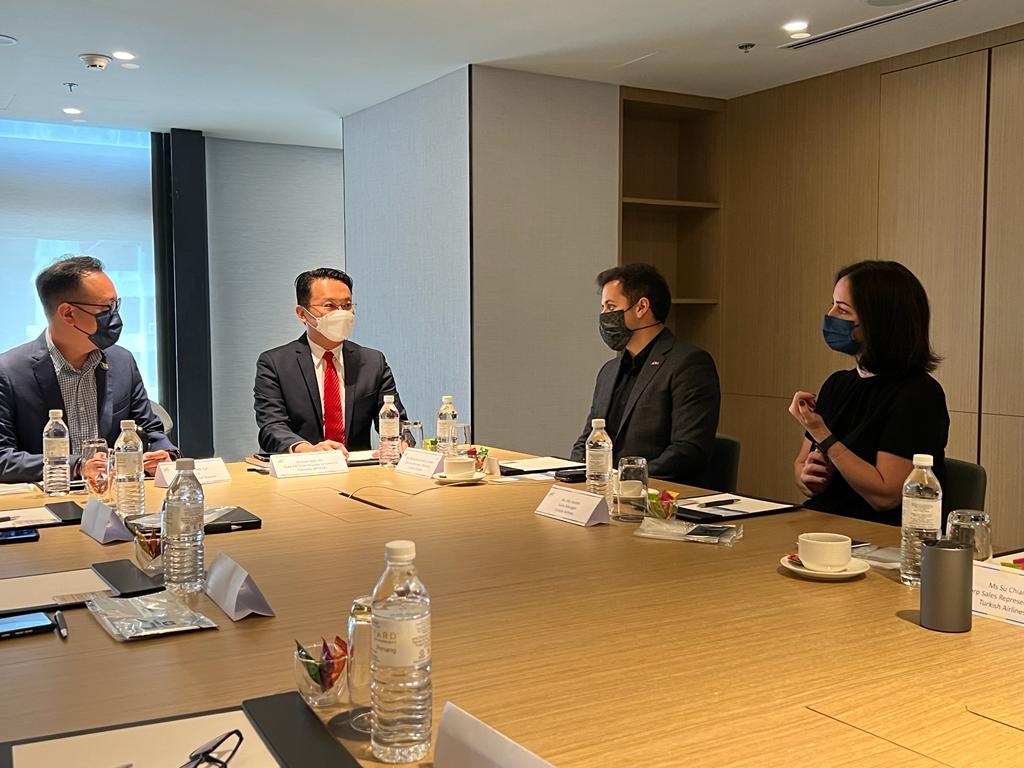 A delegation from the Turkish Airlines from Kuala Lumpur paid a courtesy call on State Exco for Tourism and Creative Economy, YB Yeoh Soon Hin recently.
The team was led by Turkish Airlines Malaysia country manager Muhammed Hamza Arslan and the discussions focused on the development potential between Penang and Istanbul.
According to Yeoh, tourist arrivals in Penang prior to the pandemic were mainly from Asia such as Indonesia, China, Thailand, Singapore, India etc.
On this note, Yeoh said that Penang needs to be resilient and scout new markets such as Australia, the Middle East, Turkey etc to strengthen long term economic development.
"Penang has to take off its aviation A-Game to score its position as the passenger and cargo hub within the Indonesia-Malaysia-Thailand Growth Triangle.
"Penang's strategy in catapulting its aviation industry lies in the concurrent development and promotion of passenger and cargo flight services.
"The the passenger-to-cargo flight service conversion has been a common practice of many airlines in view of the pandemic that has caused palpable decline towards passenger flight service.
"This shift in trend has transformed cargo flight service into a new economic generator," said Yeoh in a press statement.
He added that despite the global pandemic outbreak, Penang International Airport's (PIA) cargo route did not cease, but instead recorded commendable growth and is now Malaysia's primary channel for the import and export of goods.
He cited the World Tourism Organization's predication that the passenger flight service market will only soar to its pre-pandemic glory in 2023 or 2024.
Looking at the envisaged recovery to take two more years, Yeoh explained that Penang's direction to manoeuvre out of this doldrum is to make cargo services the backbone of its aviation market, paired with the usual passenger flight services.
"Penang, as the gateway Northern Peninsular Malaysia, will gear up our efforts to inspire progress among other states and take the initiative to explore long-haul market. This allows Penang to command superiority in the air passenger and cargo industry,"
"Penang's precedence and trump card lies in our strategic location within the Indonesia-Malaysia-Thailand Growth Triangle, coupled with an international airport equipped with adequate infrastructure to accommodate take-off and landing of cargo and air passengers.
"Expanding Penang's cargo market prior to the full recovery of passenger flights is critical in maintaining PIA's competitiveness," he added.
He also emphasized that PIA has always received strong recognition in the international arena and that many airlines have their remained in the operation through the passenger-to-cargo flight service conversion.
"Penang is in talks with and continues to welcome local and international airlines to consider Penang as part of its cargo air route, which can later be transitioned into passenger air route when the pandemic subsides,"
"This will boost Penang's connectivity with the hotspots around the world, allowing us to yield a V-Shape recovery in the post-pandemic era,"
"In fact, Enhancing Asian region bonding and diversifying beyond Asia were also incorporated into the state's inaugural tourism blueprint – Penang Tourism Master Plan and is a strategy I hold dearly" he said.