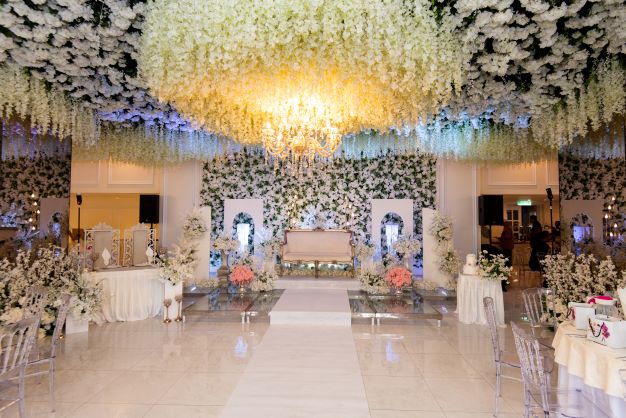 For those looking for space to hold their private occasions, the Petals Event Space is the new option.
Located in Taman Ria, Teluk Kumbar, they recently hosted two weddings at one go.
They offer "The Petals" main hall which has a maximum capacity of 350 pax or 35 round tables.
It is also adorned with thousands of faux flowers, crystal chandeliers, a glass stage and floral backdrop.
The fully air conditioned space is 5,578sq ft in size. It also comes with a holding room and pantry.
At a recent wedding ceremony held at the premises saw some 100 guests including Penang Wedding Professionals Association members, bloggers and influencers attended the grand opening dinner.
They were also feted to a sumptuous buffet spread and live band performance. Guests also took part in a trivia quiz with 15 giveaways and a lucky draw session where three lucky winners walked away with a hotel stay at the award-winning The Granite Luxury Hotel in George Town.
Spokesman for the hotel, Moh Wei Ken said that It has been a roller coaster ride for many of us since Covid-19 hit the globe.
"I would like to congratulate everyone here for sustaining through the recent challenging period. Yes, we are still standing and we will emerge stronger and better."
Meanwhile, those looking for venues to hold their weddings, corporate events, birthdays and farewells can contact 016-344-3820.