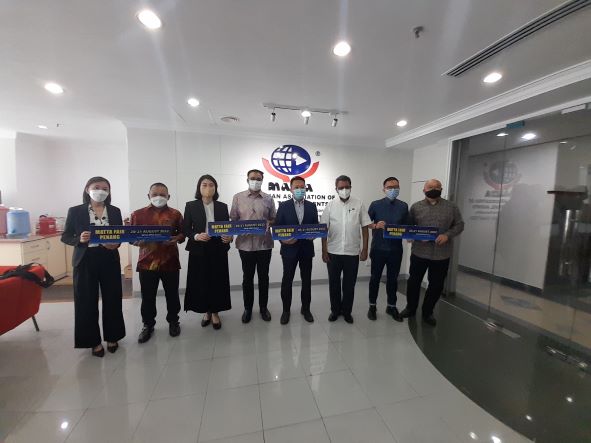 By V. Sivaji
The wait is over !
You can now make your travel and holidays plans at the Matta Fair Penang 2022.
The Penang edition of the Malaysian Association of Tour and Travel Agents (Matta) Fair 2022 is just around the corner.
A plethora of goodies, gifts and complimentary air-tickets await lucky winners next weekend (Aug 20 & 21) at the Spice Setia Convention Centre.
Moreover, for the first time in its history, the organising chairman person is a lady – Ms Carolyn Leong who is also the Matta Penang Chapter Deputy chairman.
"All of our 158 booths have been sold out and we have received an extremely great response.
"Among the top prizes are two air tickets to Los Angeles sponsored by Cathay Pacific, Qantas and Jetstar contributing one ticket each to Western Australia, Perth, Malaysia Airlines and Firefly being the official airlines contributing eight tickets for buyer's lucky draw in the business and economy class," said Leong at a press conference earlier today.
Other airlines sponsoring tickets are AirAsia, China Airlines, Thai Smile to destinations like Taipei, Bangkok and Saigon.
Lending support to the event was State Exco for Tourism and Creative Economy Yb Yeoh Soon Hin, Tourism Malaysia Northern Region director Shahrul Aman Sabir Ahmad and his deputy Siti Hajar.
Also present was Penang Matta chairman Vergis Mathews, Penang Global Tourism (PGT) chief executive officer, Ooi Chok Yan, MAS Area Manager North, Lisa Wong, Ken Tan Director (North) AirAsia, Dato Khoo Boo Lim representing MAH Penang and Rohizat Ab Rahman representing Motac Penang.
"Among the tourism organisations being represented are the KL Tourism Bureau, Sarawak Tourism Board, Perak Management, Tourism Melaka, Enchanting Sabah, Langkawi Development Authority (LADA) and Tourism Pahang.
"Theme parks and cruise agents from the Royal Caribbean Lines (RCL) and Resort World Cruises will also offer their promotions. Emirates and Qatar Airways will offer classy travelling accessories while Korea Tourism Organisation (KTO) will hold a redemption counter for gifts and soft toys," added Leong.
There will also be a variety of cultural shows from Peranakan Baba-Nyonya, Borio Omaru, Indonesian cultral dancers and from KL Tourism Board.
Meanwhile, Yeoh in his speech said that he is delighted to see Penang Matta Fair 2022 edition back once again.
"I would like to extend my heartiest congratulations to the organizing committee who have managed to attract travel agencies and tourism stakeholders and even seven states as far as Sabah, Sarawak and Pahang.
"Tourism is vital to the state's economy and also brings support to the local infrastructure and helps offer job opportunities," he added.
At the same juncture, Mathews added as Matta Fair Penang takes centrestage next week since the industry had taken the brunt of the Covid-19 pandemic and it is now time to rebuild, revive and rejuvenate the tourism industry.
"Over 60% of the booths are focussed on domestic tourism while over 30% feature international tourism and packages promoting a myriad of international destinations," said Methews.
So wait not, as entrance is free to the Matta Fair Penang 2022.